Earlier, we've shared you following article which talks about Microsoft Account troubleshooter:
Microsoft Accounts troubleshooter in Windows 10
Microsoft Accounts troubleshooter is the prime tool you can use to fix issues with your Microsoft account. Whether the issue is related to login problems, or syncing system settings, or checking the status of your account, this tool will take care of all these issues.
Recently, after running Microsoft Accounts troubleshooter on a system, we found that this troubleshooter detected an issue, asked us to apply the possible fix it knows but finally came out with status of issue as unresolved:
Can't connect to the sync service (Detected)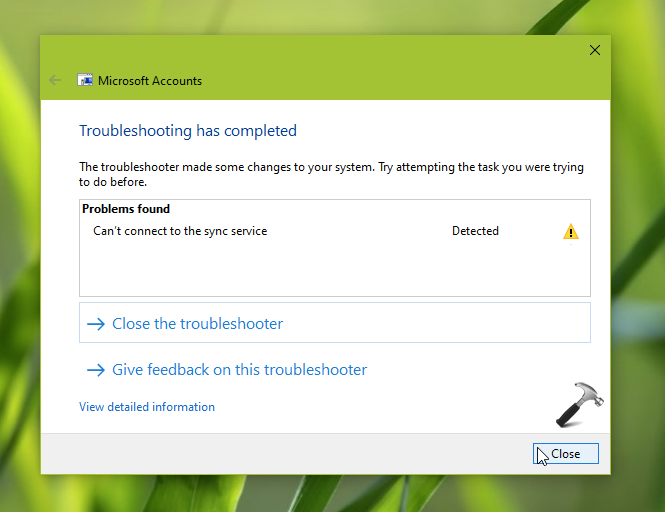 In this article, we'll provide all those suggestions which may help you to get rid of this error.
FIX: Can't Connect To The Sync Service In Windows 10/8.1/8
FIX 1 – General Suggestions
1. Make sure you're connected to the Internet. You may run Network Adapter troubleshooter additionally to detect any network issues and fix them.
2. Run System File Checker scan.
3. If SFC scan doesn't works, run DISM command-line tool to fix inbox corruption.
4. Switch to local account and then revert back to Microsoft account and see if it helps.
If nothing from above helps, try FIX 2 mentioned below to get this issue resolved.
FIX 2 – Verify Your Microsoft Account
Since general methods didn't solved this problem for you, we recommend to verify your Microsoft account as next step.
When you switch to Microsoft account from your local account, there is additional step of verification required. Some users may not notice it and continue using their devices with switched Microsoft account. As a result, the issue related to Microsoft account may come into play, just like this one.
So to get rid of this problem, you should perform verification of your Microsoft account using this guide:
How to verify your Microsoft account in Windows 10
After verifying your account, the issue will no longer appear.
Hope this helps!