We've earlier shared you the step-by-step guide to Reset your Windows 10, when it is not working as per your expectation:
How to completely Reset Windows 10
While you're working with Reset feature, it is mandatory that Windows Recovery Environment (RE) is enabled on your system. If Windows RE is disabled on your system, you'll not able to go ahead with Reset feature, as following error occurs while you opt for it:
Could not find the recovery environment
Insert your Windows installation or recovery media, and restart your PC with the media.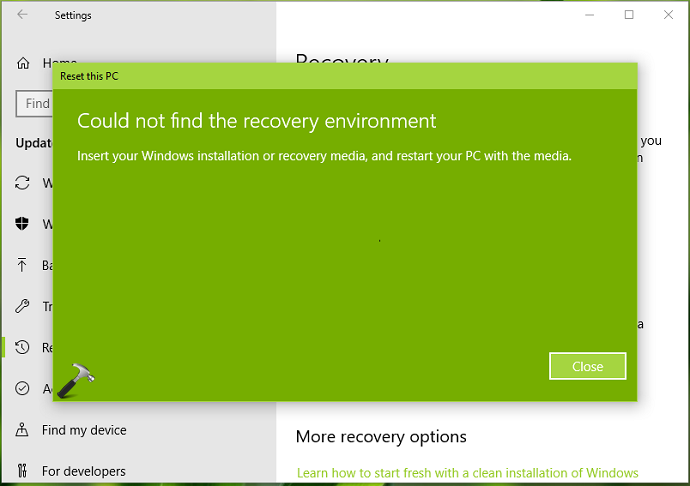 If you're also facing this problem on your Windows 10, below mentioned fix will help you to solve this.
FIX: Could Not Find The Recovery Environment In Windows 10
Well, the root cause for this problem is that Windows RE is disabled on your system. As per Microsoft, "Windows RE is also a starting point for several tools for manual system recovery." On a Windows 10 installation, usually Windows RE is enabled by default. But if you installed some third-party software or faulty updates, it might get disabled and cause this issue.
So our main goal here is to enable Windows RE, which should hopefully get rid of this problem. Try these steps:
1. Right click Start Button or press

+ X keys and select Command Prompt (Admin) to open Command Prompt as administrator.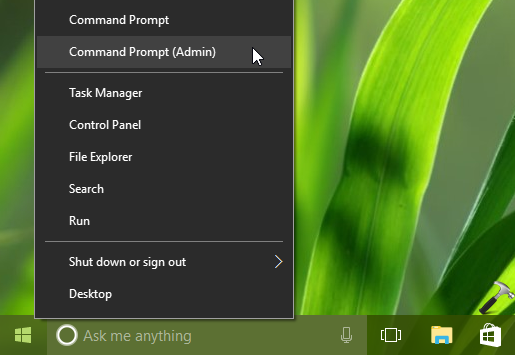 2. In administrative or elevated Command Prompt window, type reagentc /info and press Enter key.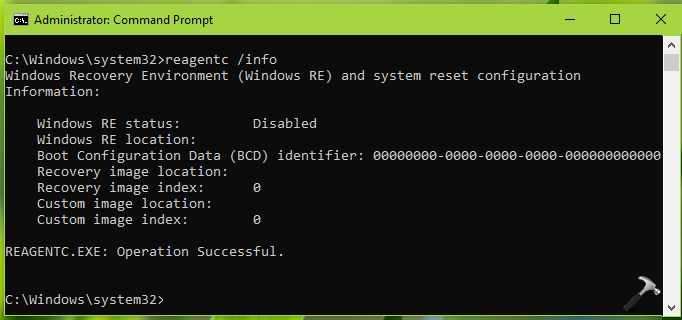 3. As you're the victim of this issue, you'll see the Windows RE status: Disabled in the resulting output. So now type reagentc /enable and press Enter key.

You'll see Operation Successful as return message, which means Windows RE is now enabled on your system.
NOTE:
If you can't enable
Windows RE
using above method, try
steps 1-3
mentioned in
this fix
.
Close Command Prompt and try to perform Reset then. You'll find that the Reset wizard is working fine now.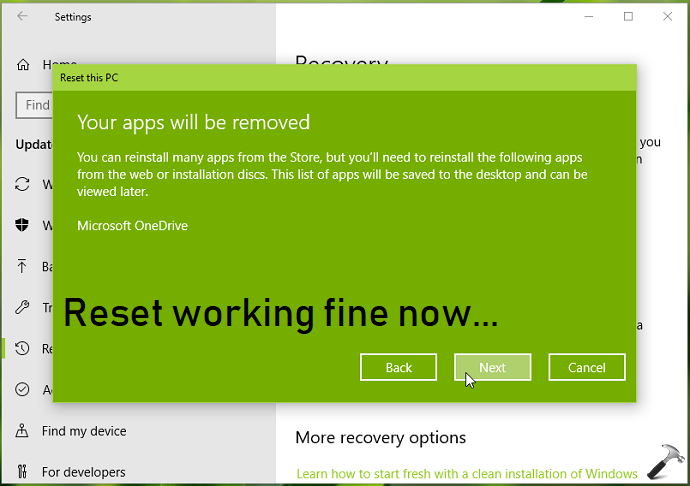 Check this video for illustration of this method:
Hope this helps!