Desktop right click is not a new thing to Windows users. We all have used it to create new folder/document, Refresh, personalize our system etc. using right click context menu. Additionally, we can added new options to Desktop right click context menu using registry. For example, you can create System Restore point, change battery power plan using this menu.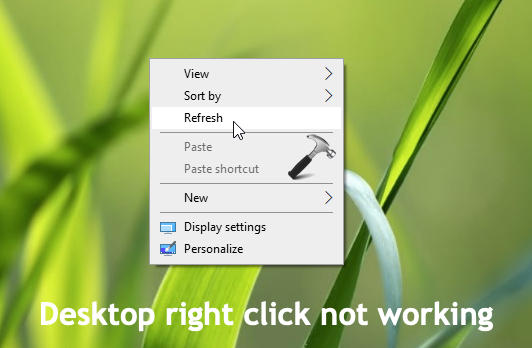 But sometimes, users may realize that Desktop right click is no longer working. Due to this fact, you can't perform routine operations on Desktop. Following may be reasons why the Desktop right click is not working:
Due to file system or registry corruption
Interference from some third-party software installed on system
You've not installed latest updates
Presence of virus, malware on your system
In this article, we'll try to fix this issue with some well known and previously worked solutions.
FIX: Desktop Right Click Not Working In Windows 10
FIX 1 – General Suggestions
1. Scan your system using Windows Security/Defender or third-party AV system you've installed (if any).
2. Make sure you installed latest Windows Updates available.
3. Boot into Safe Mode and check if issue still persists.
4. If issue doesn't occurs in Safe Mode, you must perform clean boot to eliminate the software causing this issue. In case if issue is still present in Safe Mode, refer below mentioned fixes.
FIX 2 – Using SFC & DISM
File or registry corruption is something which might be crucial factor in causing this issue. You can use built-in Windows tools to identify and kill that corruption. First, we'll suggest you run System File Checker scan. If the corruption is massive and is beyond the scope of SFC, you can use DISM command line tool instead.
FIX 3 – Advanced Suggestions
If FIX 1 and FIX 2 can't help you at all, try to reset File Explorer. For that, refer FIX 3 mentioned in this fix. Perform repair upgrade, in case if nothing helps.
Hope something helps you!