Microsoft Edge is the primary browser that comes integrated with Windows 10. If you're using it as your main browser but it doesn't works as expected, this might be due to failure of processes that runs Microsoft Edge.
When you open Microsoft Edge, some significant processes will start in background. You can see what these processes are in Task Manager, Processes tab. One of these processes is Microsoft Edge Content Process.
Microsoft Edge Content Process In Windows 10
Microsoft Edge Content Process is one of the important process in Windows, associated with Microsoft Edge browser. It's executable file name is MicrosoftEdgeCP.exe, which is located at %windir%\System32 (as of Windows 10 V1903).
Recently, while we opened Reliability History on one of our system, Microsoft Edge Content Process was reported as Stopped working (refer below screenshot).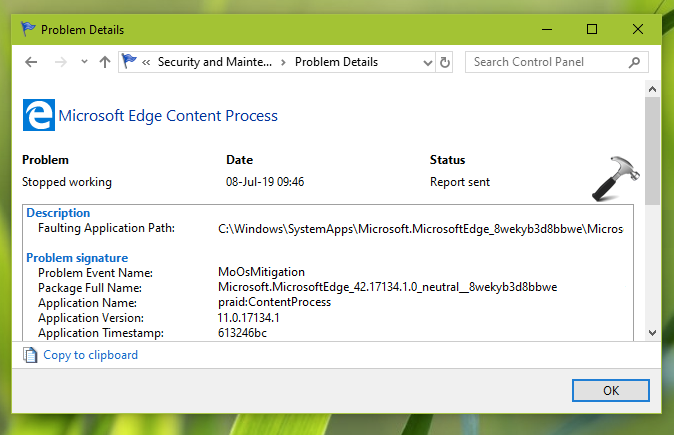 If you're also getting this error reported in your Reliability History, try to run the System File Checker scan as the first step of troubleshooting. The SFC scan is well known for fixing system file corruption. As MicrosoftEdgeCP.exe is a system file, the corruption associated with it should be fixed by SFC, which in turn will fix the issue.
Otherwise, you can continue with below mentioned fixes:
FIX: Microsoft Edge Content Process Stopped Working
FIX 1 – Run Maintenance Task
1. Open Control Panel, go to Security and Maintenance section.
2. Under Maintenance, click on Start maintenance link.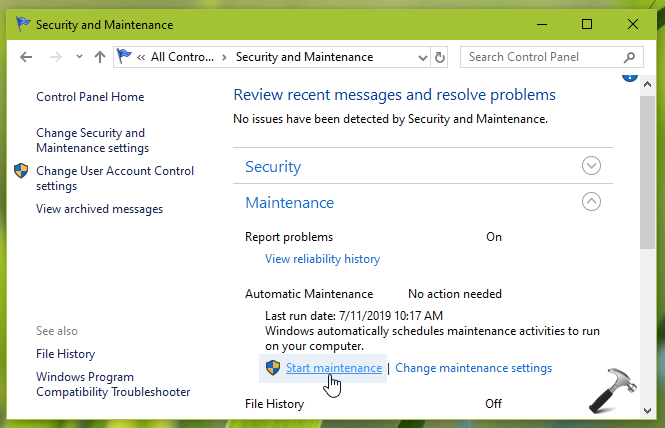 3. Let the maintenance process run and complete. Once it is completed, the issue will be resolved automatically.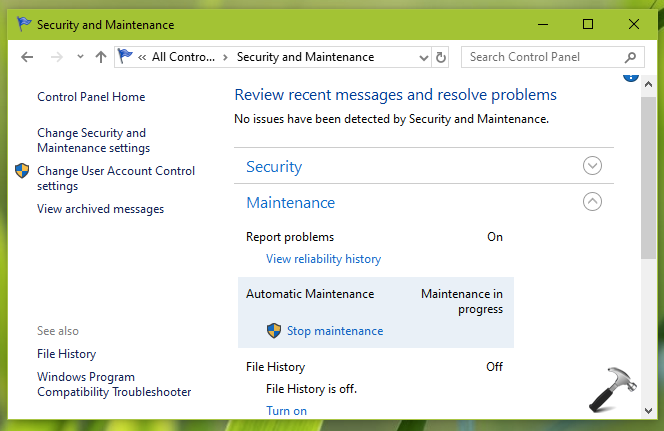 If issue still persists, refer FIX 2 below.
FIX 2 – Reset/Re-register Microsoft Edge
You can also reset Microsoft Edge to see if this resolves the issue. The Reset process will remove the data associated with Microsoft Edge, so make sure you backup it first.
In case if resetting Edge doesn't rectify the problem, you can re-register Microsoft Edge and it restore browser to factory conditions.
Both ways, resetting and re-registering Microsoft Edge is mentioned in this guide.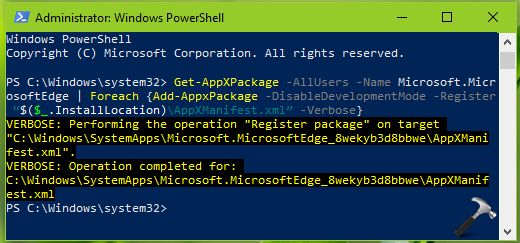 Drop us a comment, if you still have problem unresolved!