Microsoft Edge is the primary browser that comes with Windows 10. Microsoft has improved this browser continually in every version of Windows 10. But still there are some compatibility features in which Edge lacks as compared to previous Microsoft's propriety browser, i.e. Internet Explorer. However, Microsoft has also kept Internet Explorer on Windows 10, so that users may use it for older sites and where users have problem with Microsoft Edge, on compatibility.
Recently, we came around an issue in which we were note able to load local IP addresses or sites. The local IP address or sites may be limited to your working environment and works as a bridge to connect various local devices using network. So whenever we tried to load local IP address, we got the familiar Hmmm…can't reach this page message (refer below shown screenshot). However, local sites/IP addresses continue to load in Internet Explorer without any problem.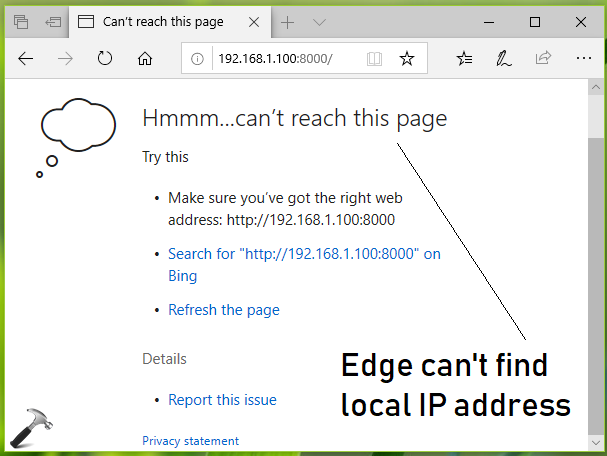 If you're also facing this issue with Microsoft Edge on your system, you need to add your local sites or IP address to trusted sites list. Microsoft Edge will then start loading trusted sites/IP addresses without any issues.
So here's how to fix this issue:
FIX: Microsoft Edge Fails To Load Local IP Address
1. Press

 + R and type inetcpl.cpl in the Run dialog box, to open Internet Properties.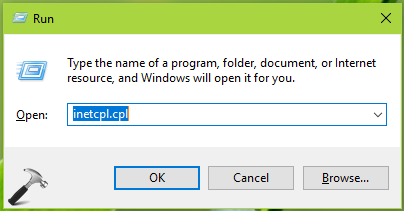 2. In Internet Properties window, switch to Security tab. Select Trusted sites and then click Sites.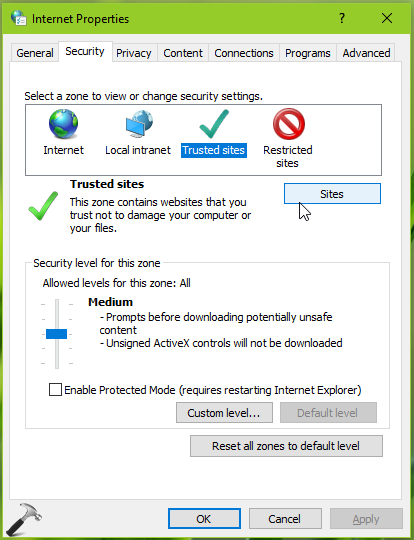 3. Moving on, in Trusted sites window, type the complete address for your local site/IP address and click Add.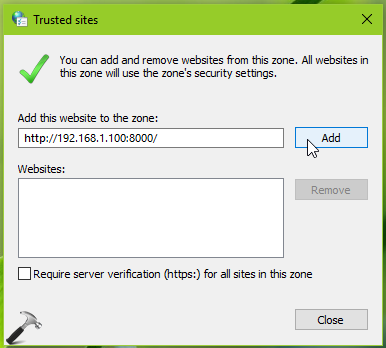 4. In this way, add all the local sites/IP addresses to this list. You can use wildcard entries as well, for example, https://192.168.1.*. Click Close when you're done and then click Apply, OK to save the settings on Internet Properties page.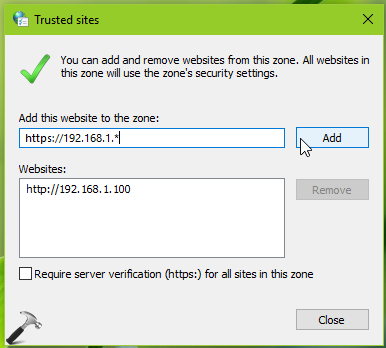 Now reboot your machine and try to load local sites/IP address in Microsoft Edge and this time it should work fine.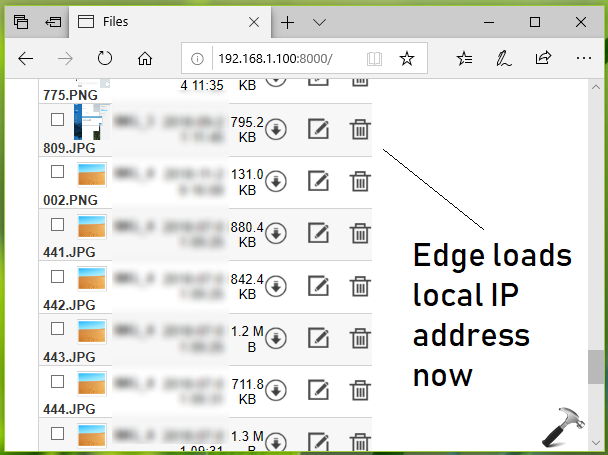 FYI:
Microsoft Edge
not loading local
IP
addresses/sites is known issue with
KB4480116
on Windows 10
V1809
.
Microsoft is currently aware of this problem and is working on a resolution. So if you're facing this problem after installing KB4480116, you can try above mentioned workaround
.
Microsoft
has resolved the issue with
KB4487044
. Please install
KB4487044
, if you're affected with this issue on
V1809
.
Hope this helps!