FYI: Microsoft temporarily paused roll out of Windows 10 V1809 update (initial release) on 5 October 2018, after users reporting loss of files post upgrade. Windows 10 V1809 is re-released on 14 November 2018. This article was originally published on 3 October 2018 and updated on 14 November 2018.
Even before the release of April 2018 Update, Microsoft started working on Windows 10 October 2018 Update or V1809. Today, Microsoft has finally release the Windows 10 October 2018 Update to the end users. The company has announced this update release on their recent event at New York city.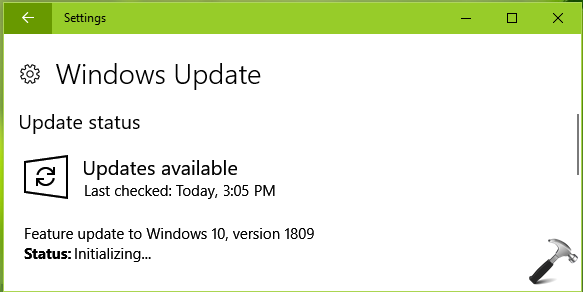 Windows 10 October 2018 Update would be the sixth massive feature update to Windows 10 operating system after November Update (V1511), Anniversary Update (V1607) and Creators Update (V1703), Fall Creators Update (V1709), April 2018 Update (V1803) following the Released to Manufacturing (RTM) version (V1507).
This article enlists the crucial changes that this update will bring to you.
What's New In Windows 10 V1809 (October 2018 Update)?
New Features In Windows 10 V1809
1. Cortana gets the search preview.
2. Acrylic effects on the login screen added now.
3. File Explorer supports dark mode theme.
4. Microsoft Edge improvements:
a. Acrylic effects in Settings pane.
b. You can now name group of tabs in Microsoft Edge.
c. New Group Policy settings for Microsoft Edge.
d. Miscellaneous improvements and options update in Microsoft Edge.
5. You can delete previous Windows edition using Storage sense.
6. You can get battery level on Bluetooth devices. Add to this, you will get notifications when a Bluetooth device is low on battery.
7. Windows 10 V1809 adds Screen Snip feature. It allows you quickly capture screenshots and share them.
8. Delivery optimization gets own section under Update & Security in Settings app.
9. You can now type and get suggested registry path in Registry Editor.
10. Windows Defender Security Center is now Windows Security.
11. You can see other third-party AVs in Windows Security.
12. Cortana gets renamed to Cortana & Search.
13. Data Usage on roaming is available now.
14. Interactive ads are shown in Settings app which will provide tips and tricks to you.
15. You can no longer change screen brightness from Control Panel. You need to go to Settings app for same.
16. Introduces Your Phone app.
Features Removed In Windows 10 V1809
While Microsoft has added many new features in Windows 10 V1809, but some features are removed as well. Below is the list of those features:
1. Trusted Platform Module (TPM) snap-in is removed with V1809. Microsoft has moved TPM management to Windows Security.
2. The old famous Disk Cleanup says goodbye to Windows family with V1809. Microsoft has came up with an alternative for this, called Storage sense which automatically free up space on your system.
3. Snipping tool, which was a long time member of Windows family, gets removed with October 2018 Update. The replacement is newly introduced Screen Sketch feature.
4. Hologram app is removed with Windows 10 V1809.
5. The Phone companion app is no longer working with Windows 10 V1809.
Windows 10 V1809 (October 2018 Update) Is Now Available
Windows 10 V1809 or October 2018 Update is released to end users now. You can check for latest updates available to you. It should be available as Feature update to Windows 10, version 1809. You can download and follow on-screen instructions to install it.
You can download Windows 10 V1809 ISO and upgrade by following this guide. You can also upgrade via Media Creation Tool.
If you want to skip or block this update, refer this guide.
Hope you find the upgrade useful!