Most of the time users are recommended to install latest available updates. Updates keeps your system safe and secure. However, with recent update KB4517389 for Windows 10 V1903 (Build 18362.418), some users reported issues with Start Menu.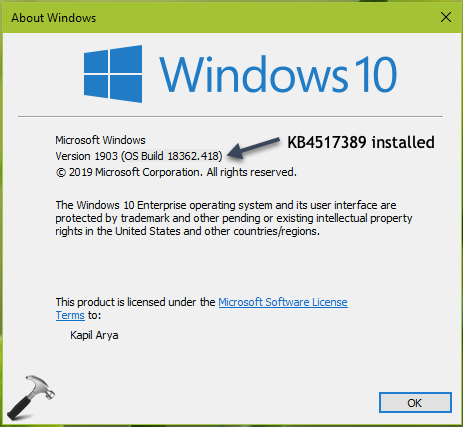 If you're using Windows 10 Version 1903, you would have received KB4517389 on 7th or 8th October, 2019. The update addresses some issues and provides security updates some specific features. But after installing, a new issue appears which prevents Start Menu from opening. Whenever users opt to open Start Menu, Critical error appears. The Critical error in general, can be fixed using solutions provided here:
Fix: Critical error: Your Start Menu isn't working in Windows 10
If you have not installed KB4517389 till now, you'll not face above mention issues.
So if you've KB4517389 installed and facing this problem, refer below mentioned suggestions.
FIX: Start Menu Critical Error After Installing KB4517389
As of this writing, Microsoft has not listed above mentioned symptoms as Known issues for this update. However, the issue has become trending in some forums and we believe Windows engineering team will be soon acknowledge this issue and provide a fix.
According to some random user at Microsoft forums, "KB4524147 originally caused a critical error when using Start Menu AND it prevented my printer from printing. The latter was because of some mess up with the print spooler. I uninstalled KB4524147 and BOTH problems disappeared." Uninstall of KB4517389 is the temporary workaround, we can suggest you at the moment. You can follow our step-by-step guide to remove this update. Note that after removing the update, you need to hide it otherwise it would be reinstalled by Windows Update.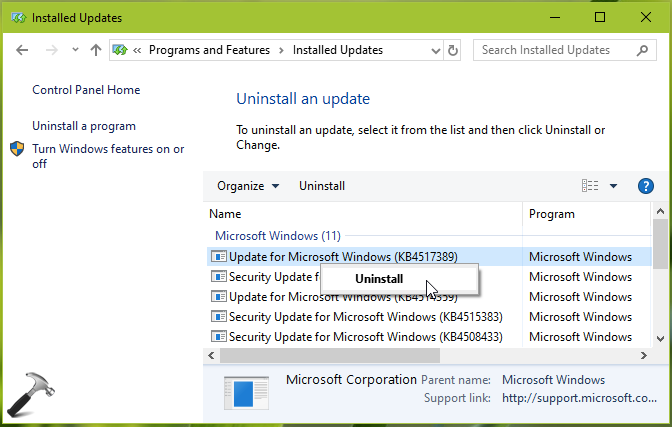 When the issues with KB4517389 are sorted out, you unhide that update and can install back. Or if there is newer update available, you can go ahead with that. We'll also update this post, if we've any official information on this issue. 
Stay tuned!