With Windows 10, you can encrypt specific files or folders using Encrypting File System (EFS) feature. This feature is especially helpful when you don't want to encrypt entire drive with BitLocker but want to secure some of your important content.
We've already seen step-by-step guides to encrypt and decrypt files and folders (collectively called as the content) in Windows 10. Recently, while decrypting one of the previously encrypted file, we received following message and decryption failed due to this:
The specified file could not be decrypted.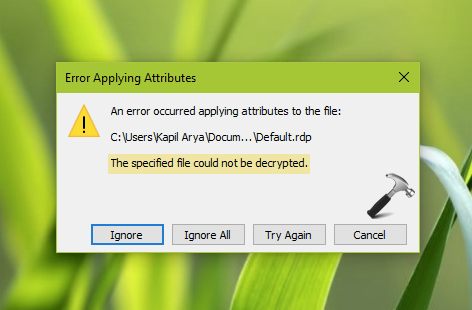 Sometimes users may receive Error 0x80071771: The specified file could not be decrypted while applying properties to encrypted content as shown in below screenshot.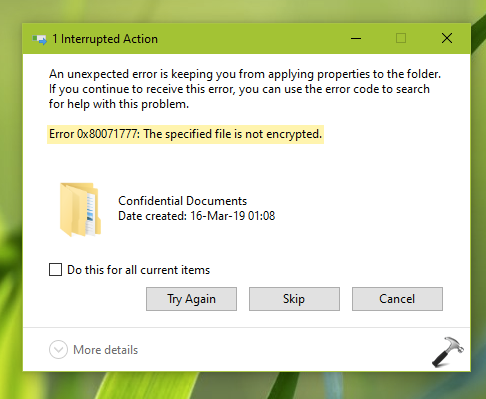 If you've also received this warning and couldn't figure out what to do, this fix is for you.
FIX: The Specified File Could Not Be Decrypted
Okay, so this warning is expected when you're decrypting the content using an account that either didn't encrypted the content or doesn't have rights (specifically the permissions) to decrypt. Additionally the issue may occur due to change in base system installation.
For example, if there are users A and B exists on the system. Now user A encrypted the file. When the encryption was initiated, a certificate is issued by user A for himself/herself. This means the issuer is intended to consume the certificate. Hence when user B access the content and try decrypt it, the above mentioned warning appears and decryption is not processed. In this case, user B is supposed to take ownership of the file and grant permissions for himself/herself. After granting permissions, the user can easily decrypt the content and no warning should appear.
Now considering the second factor viz. change in installation. So for example, if you encrypted the content on Windows 8.1 and then you upgraded to Windows 10. Now when you decrypt the same content using same user account and rights, you may see the warning appearing and decryption failing. For this specific case also, you need to take ownership of the content and it would solve the issue.
See this video for illustration of this fix:
Hope this helps!