We often post here about BSOD errors on Windows 10. UNMOUNTABLE_BOOT_VOLUME is another BSOD or stop error which we're going to discuss in this post. In case of this BSOD error, your system won't be able to boot because the boot volume having issues that are preventing to load Windows correctly.
Here, when you start your machine, the screen received is:
Your PC ran into a problem and needs to restart. We're just collecting some error info, and then we'll restart for you. (
x

% complete)
If you'd like to know more, you can search online later for this error: UNMOUNTABLE_BOOT_VOLUME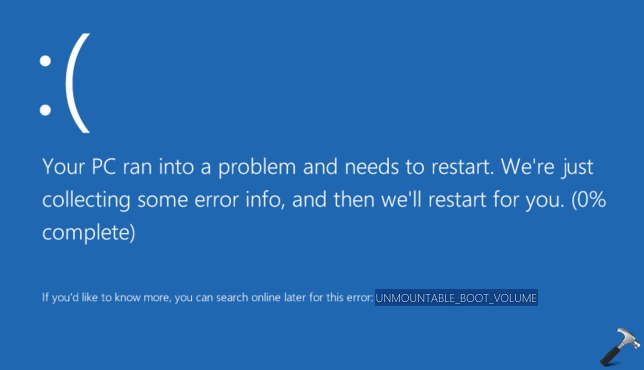 The UNMOUNTABLE_BOOT_VOLUME bug check has a value of 0x000000ED. This error means that I/O sub-system on machine failed to mount the boot volume. Since the issue is directly related to boot volume, following might be the causes for this problem:
1. Damaged file system which failed to mount
2. If the boot volume has been modified that has caused disk changes
3. An attempt to load Windows from incorrect partition on multiple OS system
4. The SATA controller is not working properly on the selected mode
5. If the Boot Configuration Data (BCD) file is having issues
If you're also the victim of this issue, here are suggestions to fix it:
FIX : UNMOUNTABLE_BOOT_VOLUME BSOD In Windows 10/8.1/8
1. First things first, boot into Safe Mode with minimal resources, see if you can boot fine. If issue doesn't persists in Safe Mode, it might be possible that some 3rd-party software is culprit here and you need to use hit and trail method with clean boot to find it. Just run msconfig command, go to Services tab and check Hide all Microsoft services and then hit Disable all button. Reboot and check the status of issue. Do this step-wise, for each programs, one-by-one disable the corresponding services and keep checking, check if the issue resolves.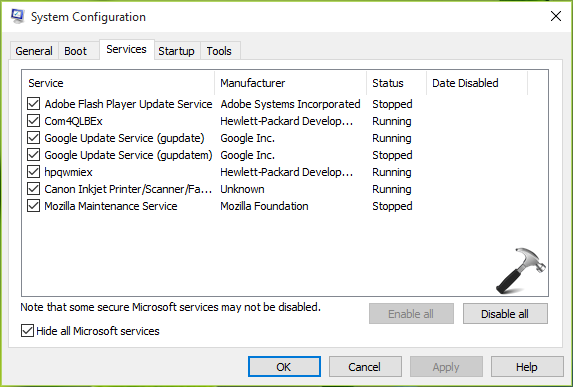 2. Boot into Advanced Recovery Command Prompt mode, run chkdsk /r /f d: (Replace D: with your system root drive) command to fix issues with file system.

3. Review the BIOS settings and try switching SATA Controller between IDE, ACHI and RAID modes.
4. If Windows is attempting to load from wrong partition, its time to rebuild BCD file. Try the commands mentioned here to fix issue with boot records.
5. If you were able to boot into Safe Mode, run the Windows Memory Diagnostics tool to  ensure everything is OK with the RAM.
Hope something helps.
Let us know via comments, if you still have the problem!