Windows Security (earlier Windows Defender) is the primary security software comes with Windows 10. In past, Microsoft has improved this security suite and today it is sufficient to protect the operating system without need of any other third-party antivirus program.
Windows Security threat definitions are automatically installed along with Windows Updates in Windows 10. But in case if these threat definitions aren't updated automatically for anonymous reason, you'll receive following notifications repeatedly:
Virus protection is out of date. Tap or click to update Windows Defender Antivirus.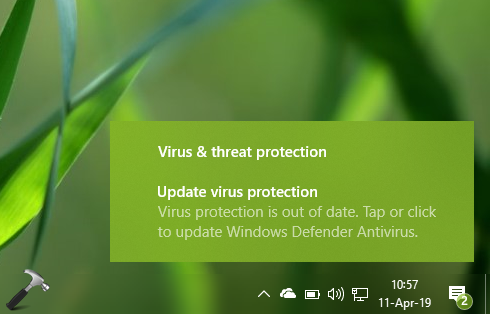 If you want to stop receiving these notifications, here is what you can do to fix.
FIX: 'Virus Protection Is Out Of Date' In Windows 10
FIX 1 – Via Windows Security App
1. Open Windows Security app.
2. On the Dashboard or Home, under Virus & threat protection, click Load updates.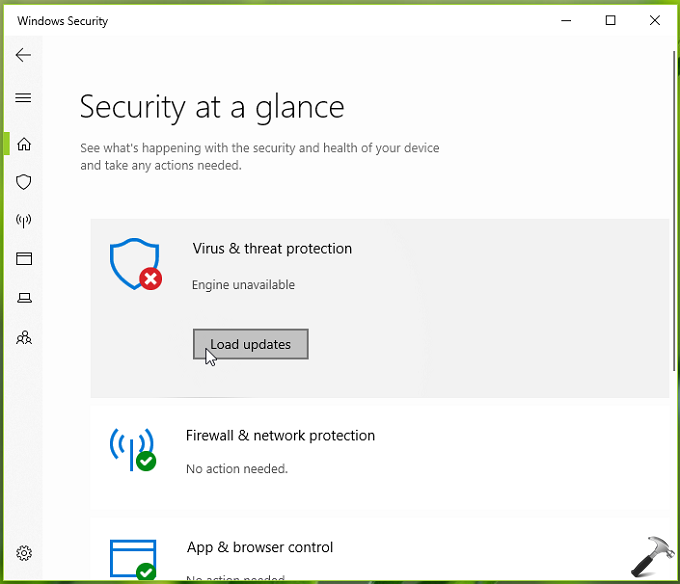 3. In next window, let threat definitions detected and installed. This process is automatic and doesn't requires any inputs from you.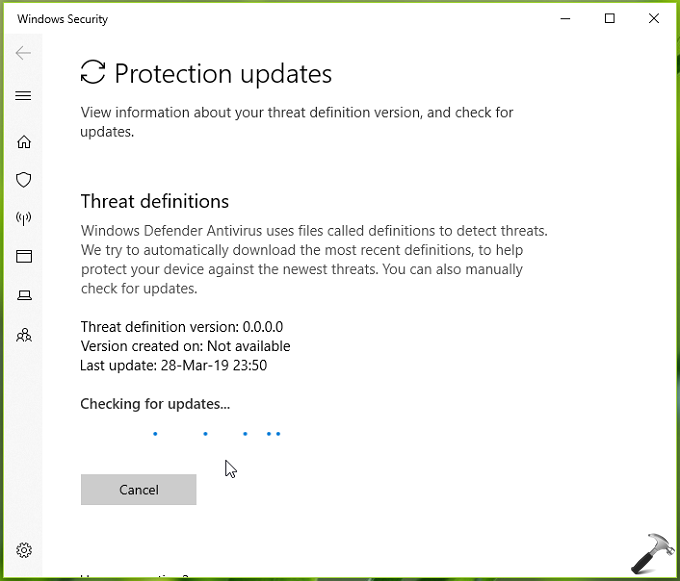 Once latest threat definitions are installed, you'll no longer receive 'Virus protection is out of date' notification then.
If issue still persists, refer to suggestions mentioned in FIX 2 mentioned below.
FIX 2 – Other Suggestions
1. Try to download and install latest threat definitions manually as mentioned in this fix.
2. Open Services snap-in by running services.msc command. Ensure that the Windows Defender service is Running and is set to Automatic Startup type.
3. You can also try re-registering the following dll files and see if this helps you. Open administrative Command Prompt and run each of below mentioned commands one-by-one and hit Enter key after each:
regsvr32 wuaueng.dll
regsvr32 wucltui.dll
regsvr32 softpub.dll
regsvr32 wintrust.dll
regsvr32 initpki.dll
regsvr32 wups.dll
regsvr32 wuweb.dll
regsvr32 atl.dll
regsvr32 mssip32.dll
4. Open Registry Editor and go to HKEY_LOCAL_MACHINE\SOFTWARE\Microsoft\Windows Defender. Make sure the Value data of DisableAntiSpyware and DisableAntiVirus named registry DWORDs are set to 0. Refer this fix for detailed steps.
5. If nothing from above suggestions helps, consider performing repair upgrade. Rest assured, your data won't be affected plus issue will be fixed.
Hope something helps!