Many of you might have reserved your free upgrade to Windows 10 using Get Windows 10 app. But still after more than a week has been passed to Windows 10 official release and some users are complaining they haven't received the update yet. According to an user, he reserved for free upgrade from Windows 7 SP1 to Windows 10 when Microsoft started reservation procedure. Now when he opens the Get Windows 10 app, he gets following message:
Thank you for reserving your free upgrade
We're validating Windows 10 for your PC. While upgrades have started for most PCs, we're continuously working with our partners to ensure that even more PCs work well with Windows 10.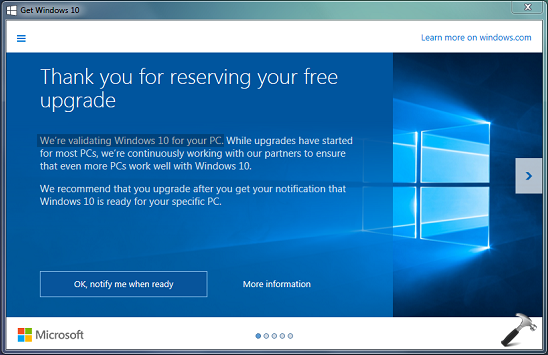 If you've also have the same story and if you can't wait till validation is complete, there are some ways you can try. Using these ways, you'll be able to install Windows 10 immediately, without any further delay.
FIX : We're Validating Windows 10 For Your PC
METHOD 1 : Manipulate Registry To Allow Windows 10 Instantly
You can try out steps 1 to 4 for registry manipulation as discussed in the following article:
Change registry values to allow Windows 10 installation immediately
Once you've tweaked registry settings, you'll see following pop-up from Windows Update on your system:
Your upgrade to Windows 10 is ready
So simply hit the Restart now button and Windows 10 installation will begin on your machine.
METHOD 2 : Download ISO And Then Upgrade
Microsoft has also made the Windows 10 offline ISO files available. That means you can download these files and use them to upgrade your system to Windows 10. Here is the link to page, from where you can get the Windows 10  ISOs:
Link to Windows 10 ISO files download page
Once you finished downloading ISO file, follow this step-by-step guide to do the upgrade:
Guide to upgrade to Windows 10 from your existing Windows installation using ISO file
Hope this helps! Feel free to drop your comments, if you need further help on upgrading to Windows 10.