Microsoft released Windows 10 a year ago, and till now more than 350 million devices are running this operating system. Users have three ways to get Windows 10 working on their machine. First way is to make clean install of Windows 10 using ISO file or setup disc they bought from official retailer. Second way to bought device in Windows 10 comes pre-installed by Original Equipment Manufacturer (OEM). Third way is to upgrade your Windows 7/8/8.1 to Windows 10 using free upgrade offer.
However, for many of users, upgrade didn't gone smoothly. Few of them reported that while upgrading to Windows 10, the process doesn't goes beyond 99% and stuck there for hours. Obviously, users didn't have any other choices except to restart whole process. Even some users re-started upgrading but nothing happened and they're lost at 99 percent again.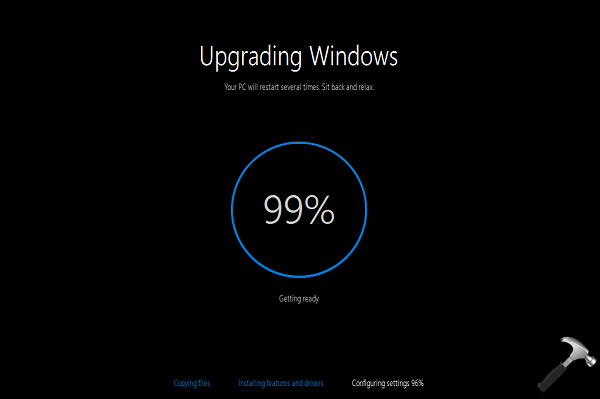 If you're also victim of this problem, you can try suggestions mentioned below and see if they helps:
FIX : Windows 10 Upgrade Stuck At 99 Percent
FIX 1 – Clear Contents Of Software Distribution Folder
1. Press

+ R key combination on your keyboard and paste following into Run dialog box and click OK:

C:

\Windows\SoftwareDistribution\Download
*Substitute C: with your system root drive.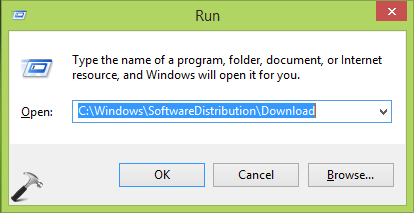 2. Clear all the contents of Downloads folder so opened: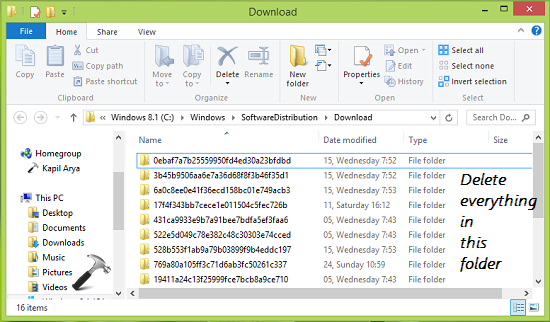 After you make the Downloads folder empty, reboot the machine and re-try proceed to installation.
FIX 2 – Deactivate Windows Update For A While
1. Open Control Panel and go to System and Security\Windows Update\Change Settings.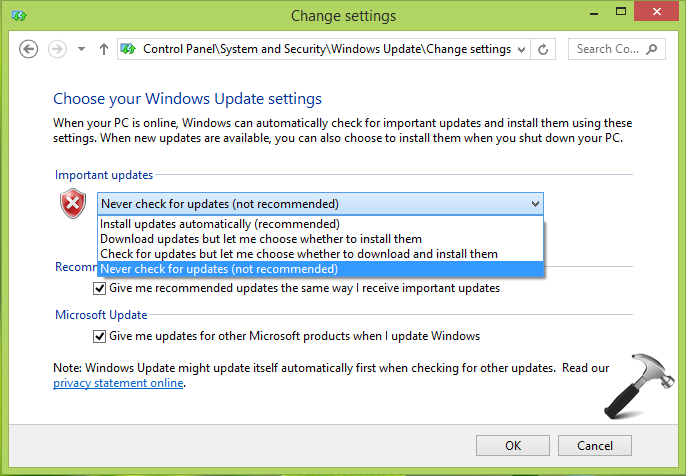 2. Now set the Windows Updates settings for Important updates to New check for updates option. Also uncheck Give me recommended updates the same way I receive important updates and Give me updates for other Microsoft products  when I update Windows options. Click OK.
3. Next, open administrative Command Prompt. Type net stop wuauserv command and press Enter. You should see The Windows Update service was stopped successfully message in return.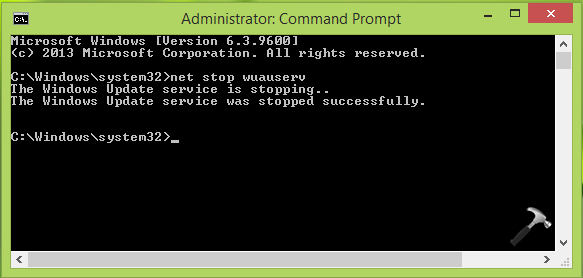 Close Command Prompt and try upgrading now. It should work this time. When Windows 10 upgrade is complete, you can run net start wuauserv command to start Windows Update service again.
Let us know via your comments, if issue still persists!