There are two ways to get Windows 10 running on your system; upgrade and clean install. Clean install has been my first preference, always as it gives you fine experience with installation. While upgrading seems task of pain to me. Well, recently one of my reader mailed me about an issue he faced while upgrading to Windows 10.
When he tried to upgrade to Windows 10 using the setup, following error occurred:
We couldn't install Windows 10
We've set your PC back to the way it was right before you started installing Windows 10.
0xC1900101 – 0x20017
The installation failed in the SAFE_OS phase with an error during BOOT operation
—you may also receive this error code—
0xC1900101 – 0x30018
The installation failed in the FIRST_BOOT phase with an error during SYSPREP operation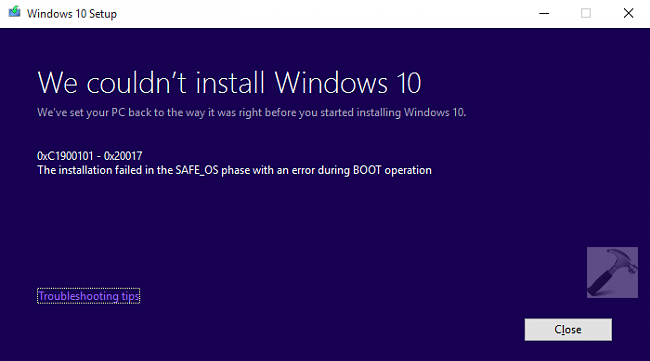 Such kind of issues can be easily resolved using the crash analysis. If you're familiar with reading logs, you can find the crash logs for this error inside $Windows.~BT\sources\Panther and $Windows.~BT\sources\Rollback folders under system root drive. Please note that the log files are hidden by default.
Since various factors may dominate for this issue, I'm giving you some general suggestions you can try in this situation. One of these suggestion worked for my reader, who brought my focus on this problem. Also we have found that Microsoft is too aware of this issue and they're still working on it. We'll soon have a support KB article or Windows Update for it. So for now, you can try these workarounds:
FIX : Error 0xC1900101 – 0x20017, We Couldn't Install Windows 10
The most probable cause for such errors is presence of incompatible anti-virus or any third party software/driver. Checkout these suggestions and see if something helps you:
SUGGESTION 1 :
Try temporarily disabling or uninstalling your antivirus software and turning off any 3rd party firewall software you have running and see if the upgrade will succeed.
SUGGESTION 2 :
If you are using a Wi-Fi connection, try switching to a wired connection using a network cable, and disable or uninstall your wireless network card.
SUGGESTION 3 :
Remove any connected USB devices (except the keyboard and mouse) when attempting the upgrade.
SUGGESTION 4 :
Run the System File Checker and analyze the results. This will fix if any of your system files are damaged which may contribute to error.
[How To] Use System File Checker To Repair Windows
SUGGESTION 5 :
Make sure you've installed all the latest Windows Updates available for you. Also ensure that your drivers are up-to-date. Would suggest you here to check your device manufacturer's website, if there exists any BIOS updates for Windows 10. Uninstall any unnecessary hardware or software prior to upgrading to Windows 10.
We hope something from these suggestions will help you. If nothing helps, clean install should be straightforward step, you should take then.
Also check:
[FIX] Error "0xC1900101 – 0x40017" ; Couldn't Update To Windows 8.1