Windows 8.1 is on the floor and I started playing with it but there are somethings that goes weird with it. For using SkyDrive integration in this updated OS, I switched on to Microsoft account from the local account. But soon after a reboot, I found that Windows 8.1 getting logged out automatically after a minute and takes me to the logon screen where I have to re-enter the credentials and start over.
This is really frustrating and I looked over web to resolve this issue but I guess no one has came around this issue particularly. I have everything updated on my system like drivers, software etc. One simple conclusion I derived that if the timeout value for the lock out condition if tweaked to infinite, then there may be the possibility to solve this issue. By configuring some registry entries this could be done. So here are the is the possible fix, you can solve out this issue:
FIX : Windows 8.1 Automatically Logs Out After A Minute
Registry Disclaimer: The further steps will involve registry manipulation. Making mistakes while manipulating registry could affect your system adversely. So be careful while editing registry entries and create a System Restore point first.
1. Press

+ R and put regedit in Run dialog box to open Registry Editor (if you're not familiar with Registry Editor, then click here). Click OK.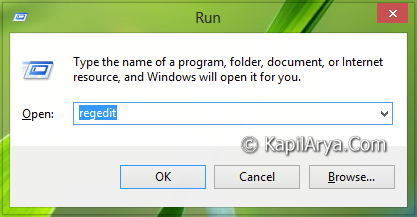 2. Navigate here:
HKEY_LOCAL_MACHINE\SYSTEM\CurrentControlSet\Control\Power\PowerSettings\7516b95f-f776-4464-8c53-06167f40cc99\8EC4B3A5-6868-48c2-BE75-4F3044BE88A7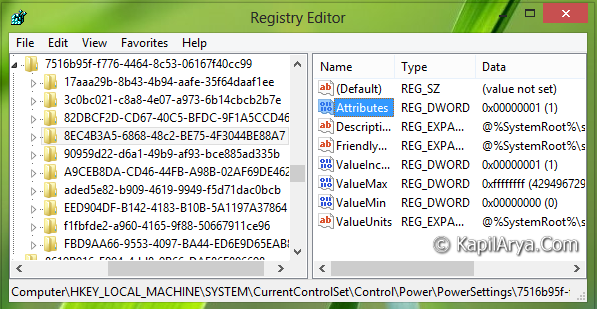 3. In the right pane of this location, look for the DWORD named Attributes as highlighted in the above image. Double click on the same DWORD to modify its Value data: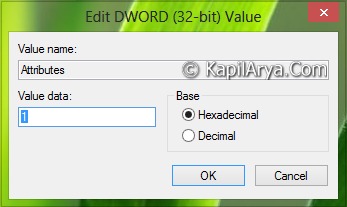 4. In the above shown box, change the Value data to 2 from 1. Click OK and close the Registry Editor and reboot to got fixed.
Hope you find the fix useful!