Earlier, we've seen how to load hive in Registry Editor, in this following article:
How to load or unload hive in Registry Editor
We know that loading hive is quite important for administrators and it technically helps us to load registry about those user accounts which are facing some issues with their profile. Today, while loading hive using Command Prompt at boot, we came around following error due to which loading hive failed.
Cannot load X:\Windows\System32\config\SAM: The process cannot access the file because it being used by another process.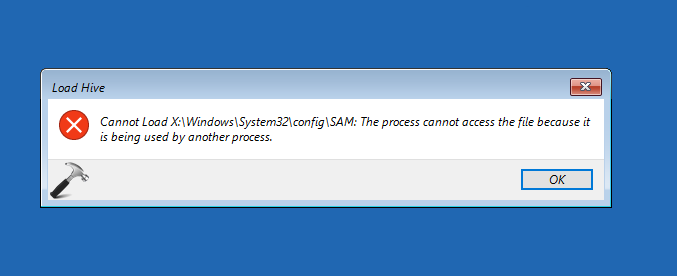 This is expected error which you will receive while loading user account via Security Account Manager (SAM) file. SAM file is basically a database file in Windows and it stores user account password and other relevant information.
FIX : "The Process Cannot Access The File Because It Is Being Used By Another Process" While Loading Registry Hive In Windows 10/8/7
The root cause behind you're getting this error is mounting SAM file from incorrect folder. Actually, when you're loading hive and look out for the SAM file in Load Hive window, Registry Editor by default opens config folder under X: drive. Here this X: comes due to Command Prompt at boot which defaults X: drive rather than using actual system root drive. Now since X: drive is nothing but its the memory in which Command Prompt is working, this error message comes into play.
Hence to solve this issue, you need to click the folder list under Look in section of window shown below. Then carefully locate your system root drive, note that it is always not C: drive.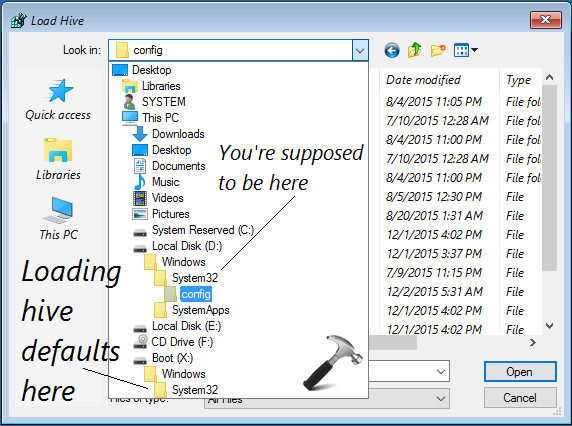 Then navigate system root drive > Windows > System32 > config. In the config folder, choose SAM file. This should work up and the loaded hive can be find under local machine branch of registry database: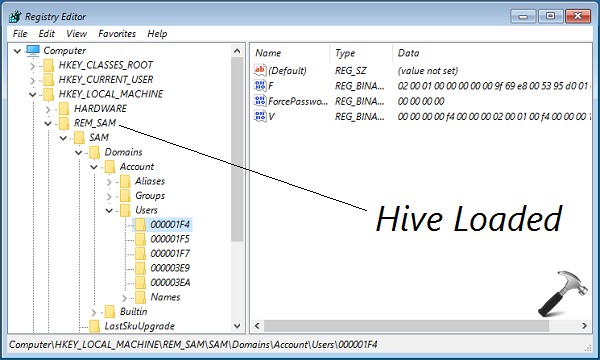 That's it! See this fix if you can't modify registry values.