Formatting a drive is not new thing for any of us and everyone here knows how to format a drive in Windows. But the matter of interest is – what if Windows refuses to format a drive and you can do nothing about it? Well, this is case we recently came around and we thought it should be shared with all of you because this issue can happen with anyone.
While formatting a hard-drive which was being utilized for System Image backup in Windows 10, we got following warning:
Windows cannot format this drive. Quit any disk utilities or other programs that are using this drive, and make sure that no window is displaying the contents of the drive. Then try formatting again.

As per the suggestions, we quit all the windows displaying contents of this drive and also tried to change location of System Image Backup to different drive, but still there were no changes in situation and we can't format the drive.
You may instead receive following message, if the disk you're formatting is being used in other third-party program:
Windows was unable to complete the format.
For both type of problems, we have found the fixes mentioned below. Try the fix matches your case and get rid of this hiccup.
FIX : 'Windows Cannot Format This Drive' In Windows 10
CASE 1 : If Drive Is Utilized In Some Program
The drive Windows is unable to format may be utilized in some third-party software you might be using on your machine. If it is possible for you to uninstall that software for a while, you can do so and format the drive. But if it is not possible for you to remove the software (due to interruption from background services etc.), however you still want to format the drive, you can try formatting via Command Prompt at boot recovery options. Here's how:
1. Boot into Advanced System Recovery Options and select Command Prompt.
2. In Command Prompt window, type following commands (mentioned in bold) one-by-one and press Enter key after each.
diskpart                                  Starts Disk Management Utility
list disk                                 Lists your system hard-drive
list volume                       Lists all hard-drive partitions including USB, DVD 
select volume 

#                 

Replace 

#

 with drive number you're unable to format
format fs=ntfs quick                     Performs quick NTFS format on selected drive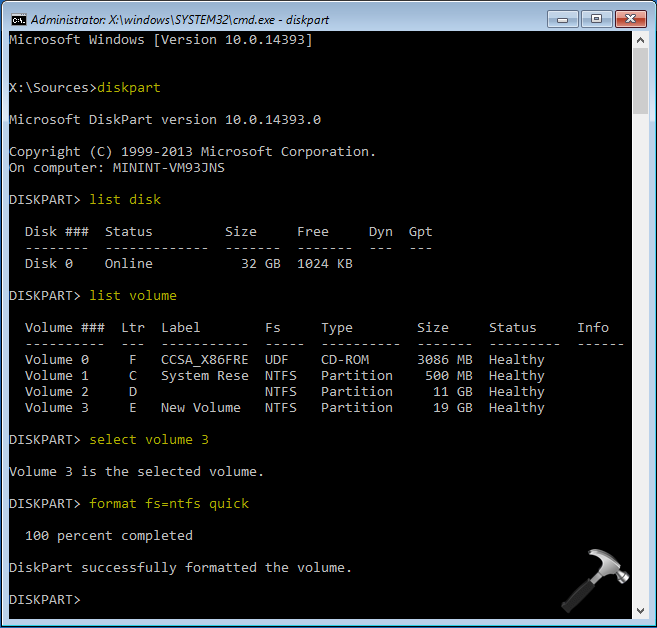 You can now close the Command Prompt window and Continue to your operating system. The formatted drive can now be used for your desired purpose.
CASE 2 : If Drive Is Utilized In Windows Operating System
When you're unable to format the drive you're using for System Image Backup, the reason is that its paging file is system managed. This system managed paging file doesn't allows Disk Management to manipulate the drive. These steps should help you in this case:
1. Press 

 + R and type sysdm.cpl in Run. Click OK or press Enter key.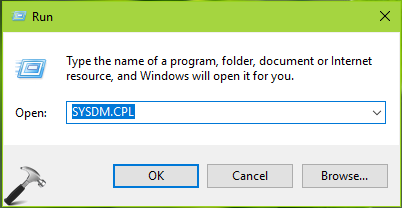 2. In System Properties window, switch to Advanced tab. Click Settings under Performance.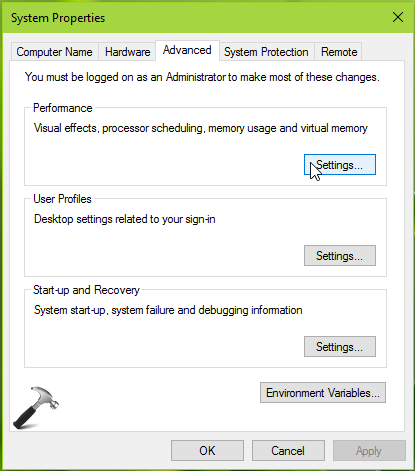 3. Then in Performance Options window, switch to Advanced tab. Under Virtual memory section, hit Change.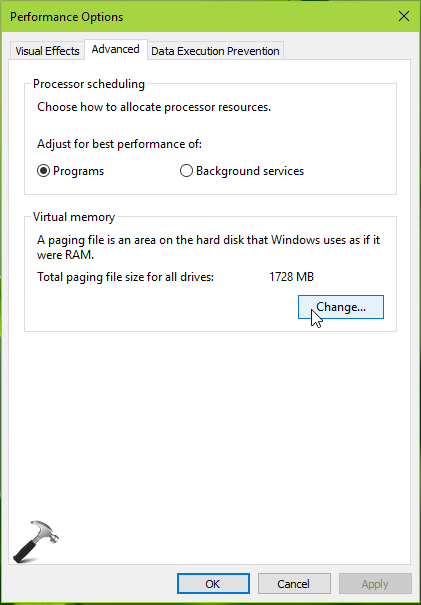 4. Next in Virtual Memory window, uncheck Automatically manage paging file size for all drives. Then select the drive which you're were unable to format, it must be having its Paging File Size set to System Managed. Select the No paging file option and hit Set which should change Paging File Size to None from System Managed. Click OK, Apply and close System Properties.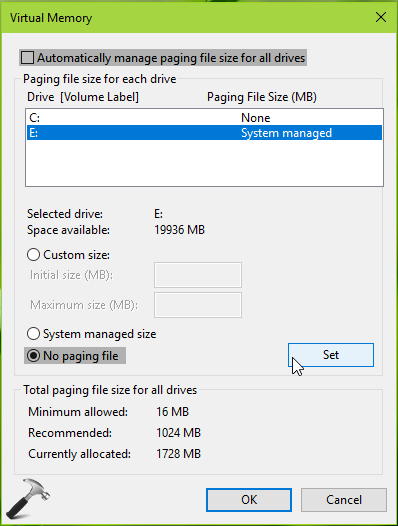 Finally, re-try to format the same drive and this time it should work without any warnings.

That's it!