If you've having a system incompatible drivers installed, you might see an issue while upgrading to latest Windows 10 Version 1909. While upgrading to latest version, you may see following message.
Your PC has a driver or service that isn't ready for this version of Windows 10.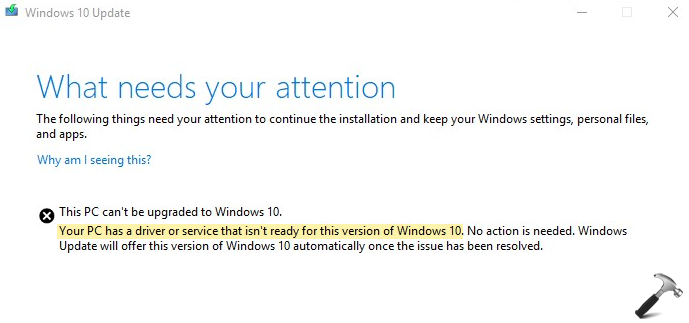 The above message puts a hold on your system for the upgrade. In case you've Realtek Bluetooth drivers installed, this is a known issue for upgrading to V1909. Both Microsoft and Realtek has worked on a patch for this issue and finally, we've a resolution available.
According to Microsoft, the company has identified this issue because of incompatibility of some driver versions for Bluetooth radios made by Realtek. Due to incompatible drivers, Windows will not update to V1909 and when users opt for upgrade, the message shown above appears. Here is how you can bypass this hold and upgrade to latest version.
FIX: Your PC Has A Driver Or Service That Isn't Ready For This Version Of Windows 10
To fix this problem, Microsoft recommends you to upgrade Realtek Bluetooth drivers to latest version. If you upgrade the above said drivers to version 1.5.1012 or later, you should be able to remove the hold. For this, you need to check for latest updates using Windows Updates.
However, if you don't receive the updates, you may need to download them manually. Microsoft has provided a step-by-step procedure in this support article to download the latest drivers and install them. This process involves downloading the drivers in .cab files and placing it at a convenient location. Then you can use Device Manager to browse for downloaded files and new drivers should detect this way. Once newer drivers are detected, the message would no longer appear.
Hope this helps!

Read Next: This PC Can't Be Upgraded To Windows 10.
Thanks a lot to Siobhan F. for sharing us this information.