As of now, Microsoft releases two feature updates or version upgrades per year. This is usually referred as Windows 10 Semi-Annual Channel. The main aim of this channel is to continuously service and support your Windows 10. Following that, below are the servicing options referenced from Microsoft:
For Windows 10 Education and Enterprise, first feature update is serviced for 18 months from release. While the second feature update is serviced for 30 months from release date.
While for Windows 10 Home/Pro/Pro Education/Pro for workstations, both feature updates are serviced for 18 months from release date. Depending upon how you configured your settings, the latest feature updates available will be automatically installed.
So if you've made settings to block feature updates or avoid automatic updates, the latest feature update available won't be installed. This means your system will keep the outdated version installed, and it may run out of service at some time. When such an outdated version is reaching the servicing limit, you may see following message displayed:
Your version of Windows 10 is nearing the end of service. Restart and install the most recent version of Windows to get the latest security updates and support.

Image credits:MSA
If you've recently received this notification, here is how you can deal with it.
FIX: Your Version Of Windows 10 Is Nearing The End Of Service
First of you need to check what version you're running. For this, run winver command. This will show the version number you're on, as shown in below image.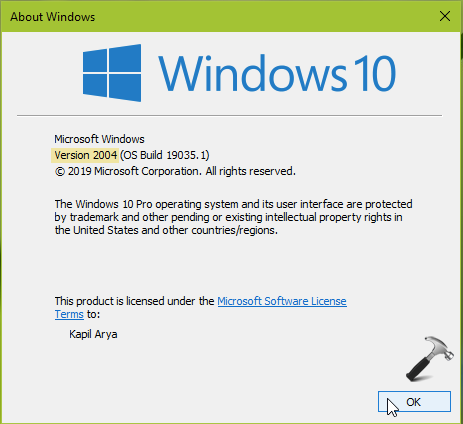 As you're receiving this notification, most probably you're running an older version. If I take today's date i.e. 15 March 2020 as a reference, you might face this issue on Windows 10 V1809. Because, Windows 10 V1809 will be out of service on upcoming May 12, 2020. You can check servicing timeline for any Windows 10 version in this support article. So the warning message received is to call you to upgrade to latest version i.e. V1909 atm. By this, you'll save your Windows 10 from running out of support.
You're advised to react on the notification and choose either of the option best suited for you. In case if the options are not working, don't worry. You can still perform an in-place update to latest version using its ISO file.
In case of any doubts, do write us back via your comments!