Right from Windows 1.0 to Windows 7, the Start Button is the basic key to operate the system. The default position of  Windows Start Button is lower left corner of screen, however it can be nailed to any other corner also. But Microsoft has never altered its position in recent 15 years except for Windows 8.
So the PC geeks are searching the way to alter the position of this Start Button (or Start ORB). Talking about flashback, as many as years, a lot of articles were written on this but nothing comes out of them. Apparently they have cumbersome ways which makes user grapevine. But now the day has come and in this article we'll discuss on the way to do this.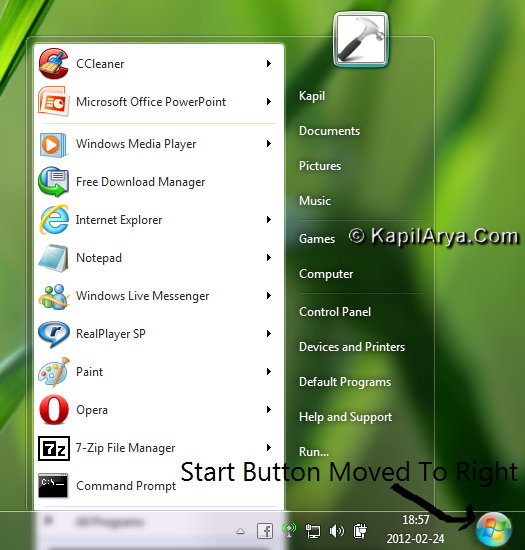 How To Alter The Position Of Windows 7 Start Button
Meet the Start ORB Mover, the light weight tweaking application, works to tweak the Start Button with ease. With Start ORB Mover, you can play with Start Button and throw it wherever you want it.
Start ORB Mover also gives the variety of options to users to operate the explorer. You can simply re-locate the Start Button and the click on it to open the Start Menu items with no issues. Following are the exciting features of this app:
Move Start Button to right, top, middle, or anywhere of screen
Open Administrative Command Prompt
Open Explorer in similar fashion as standard menu do
You can download the Start ORB Mover application from below link:
NOTE :
1. We recommend all users to first go through the "Read First" file downloaded from above archive to use the app.
2. If something goes wrong, start Task Manager and kill "StartOrbMover.exe" process and restart "explorer.exe".
3. It is better to create a "System Restore" point to dealt with issues unmanageable by Task Manager.
Thanks to our friend Anand Khanse (Microsoft MVP) for sharing this application!