In our past, we have shared you many Windows tweaking tools from WinAero. Using those tools, you can customize your Windows much better, as compared to native settings available in OS itself. Here are some of those utilities:
WinAeroGlass : Get Windows 7 Like Aero Glass In Windows 8
RegOwnershipEx : Handy Freeware For Taking Ownership Of Registry Keys
WinAero WEI Tool : Evaluate Windows Experience Index On Windows 8.1
Now the same software developer has released an all-in-one tweaker tool for Windows users. Using this "WinAero Tweaker", you can manage some important settings for your machine which often needs to be altered.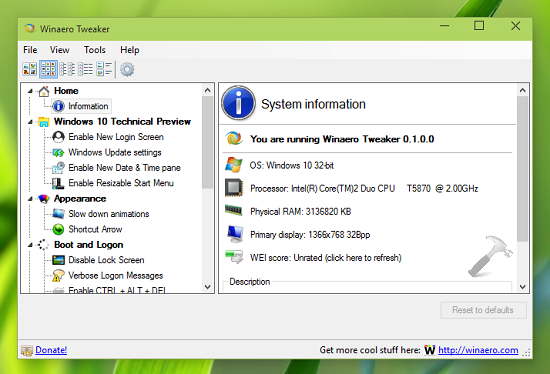 WinAero Tweaker is based on same aim, like Ultimate Windows Tweaker, we shared your earlier but it offers different settings.
Checkout : Ultimate Windows Tweaker 3 : Must Have Tweaking Utility For Windows 8, 8.1
We tested it on a Windows 10 build, and this small yet powerful app impressed us with its operations. The tool tweaking operations are customized in various categories: Appearance, Network, User Account Control, Boot and Logon, Pinning options etc. Since this is third-party utility, we suggest you to create System Restore point before trying or using it.
Here are the highlights of this software:
WinAero Tweaker For Windows : FEATURES
1. Windows 10 build tricks, like enable new logon screen etc. (works only in Windows 10 latest* builds)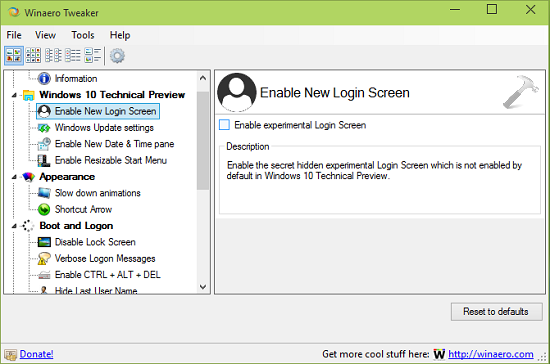 2. Settings to sync Metro and Aero colors, slow down window animations.
3. Using it, you can disable – Aero snap, Aero shake, new apps notification etc. for system behavior.
4. Booting tweaks such as don't displaying last logged user, disabling CTRL+ALT+DEL can be achieved with this tweaker.
5. Enable network drives over UAC, enable TCP/IP router to deal limited WiFi problem in Windows 8 or later.
WinAero Tweaker is a freeware and it doesn't offer ads, plus it is supposed to work on both 32-bit and 64-bit architectures. You can download this awesome tool from following link:
Download at https://winaero.com/download.php?view.1796 [.zip/855KB]
Hope you find the tool useful and productive!