We all face issues while using Windows operating system and look here and there for a solution to our problem. The issues we face may be related to File Explorer, Internet Explorer, Modern Apps, system features not working etc. Its worth mentioning here that not every Windows user is a techie and the beginners always seek for a ready-made solution to the problem they're facing. Hence, this arises a requirement of such all in one tool, which could resolve multiple issues of our system.
FixWin : AIO Tool To Cure System Problems In Windows 8 Or Later
Meet FixWin for Windows, that has got tremendous capabilities to fix all annoyance on your machine in few clicks. FixWin is released by our friendly site; The Windows Club and it works fine with Windows 8 or later. We tested it on Windows 10 and it worked great. Basically it covers the fixes for 50 most commonly faced issues by Windows users. Some of these issues are already discussed here, on other websites and forums as well. FixWin can be considered as the life savior when you don't want Refresh or Reset your system.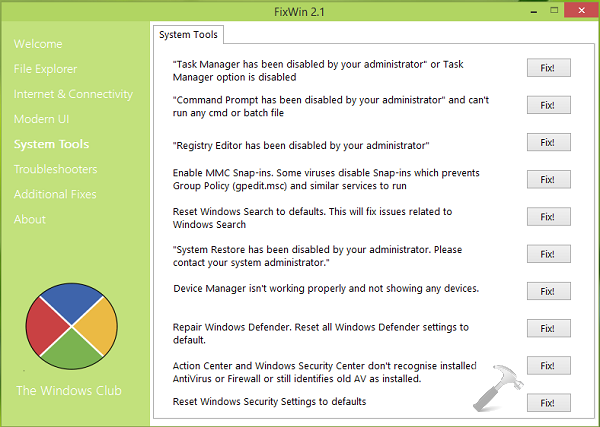 Since this is a third-party utility, hence we strongly recommend to create System Restore point before using it. Following are highlights of FixWin:
FixWin : Features
Can fix critical issues with just a single click
Covers 16 native Windows troubleshooters
Carries fixes for Modern Apps, Internet Explorer, system tools, network problems, Explorer issues
Handy, light weight and easy to use
You can download FixWin at http://www.thewindowsclub.com/fixwin-windows-8. Usage instructions are inside the ReadMe file of zip archive.
Hope you find the utility useful. Also checkout Ultimate Windows Tweaker for Windows 8 to enhance your system.