UPDATE : Article updated on 17th June, 2015 with steps to disable Get Windows 10 app from Windows 8.1 Update / 7 SP1.
We're pretty much closer to release of Windows 10 and to make reservation for free upgrades, Microsoft has already started pushing Get Windows 10 app via Windows Updates. Using this app, you can easily reserve your copy of Windows 10 to upgrade from Windows 7 SP1 or Windows 8.1 Update.
In case, if you're missing the Get Windows 10 app, checkout this post to fix it:
FIX : Get Windows 10 App Icon Missing From Taskbar
As we already quoted in the above mentioned post that you can perform three operations using Get Windows 10 app. First is the reservation of your Windows 10 copy, second is to download reserved copy and lastly to install the final build RTM version.
Well, in case if you've already made the reservation to get your free upgrade but now you're looking forward to cancel your reservation, this post may help you. The reason behind the cancellation may be various, like you don't want to expense your data to download Windows 10 or you're not actually ready to update your system, or your hardware drivers for Windows 10 isn't available etc etc.
Thus, here are the few simple steps you need to follow in order to cancel your reservation:
How To Cancel Windows 10 Reservation For Free Upgrade
1. Open the Get Windows 10 app from the taskbar notification area. Then in Get Windows 10 window, click on hamburger style menu at top left corner. Click on View confirmation option now.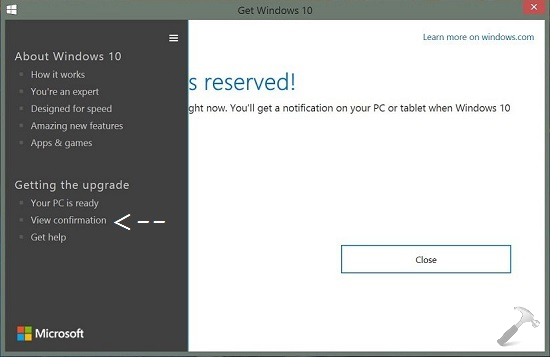 2. Next, you'll see the confirmation window saying that Your upgrade is reserved!. Click on the Cancel reservation link here: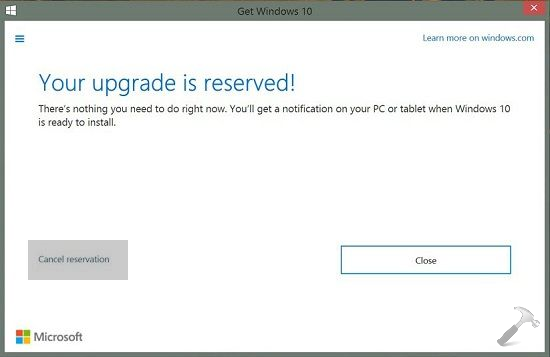 3. Finally, make the confirmation by clicking Cancel reservation option here: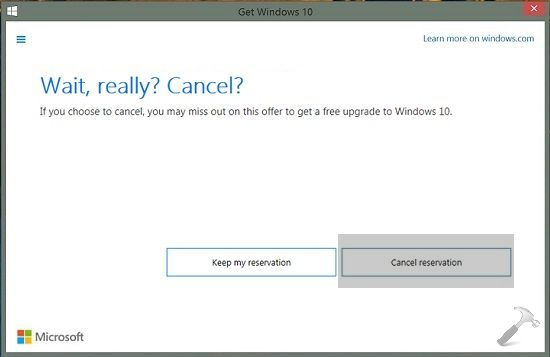 In this way, you've successfully cancelled your reservation and opted-out from free upgrade offer. In case you want to remove the Get Windows 10 app also, uninstall updates KB3035583, KB2976978 on Windows 8.1 Update and KB3035583, KB2952664 on Windows 7 SP1. After removing these installed updates, Get Windows 10 app will no longer work and you can continue to use your existing Windows installation.
Please note that you can make reservation again anytime, even after cancelling it.
Remove Get Windows 10 App From Your Windows 8.1 Update / 7 SP1
You can try out these steps and disable Get Windows 10 app from your system:
Registry Disclaimer: The further steps will involve registry manipulation. Making mistakes while manipulating registry could affect your system adversely. So be careful while editing registry entries and create a System Restore point first.
1. Press

+ R and put regedit in Run dialog box to open Registry Editor (if you're not familiar with Registry Editor, then click here). Click OK.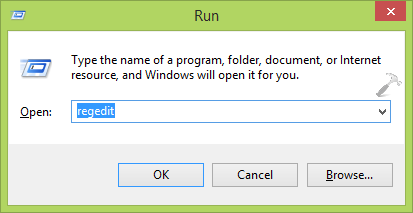 2. In the left pane of Registry Editor, navigate to:
HKEY_LOCAL_MACHINE\SOFTWARE\Policies\Microsoft\Windows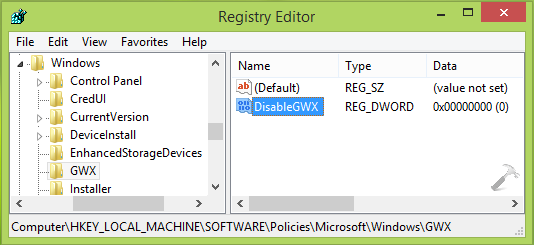 3. In the above shown window, right click Windows key and select New -> Key. Name the newly created sub-key as GWX. Hightlight GWX and come to its right pane, right click and select New -> DWORD Value. Name the newly created DWORD as DisableGWX and double click to get this: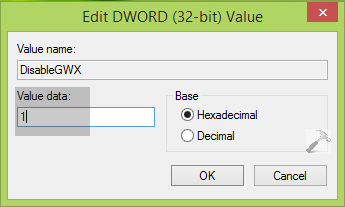 4. In the Edit DWORD Value box, put the Value data as 1. Click OK and close Registry Editor and reboot. After restarting machine, Get Windows 10 app should be disabled.
Hope this helps! Go here to learn Windows 10 development report.