There might be different cases when activation in your Windows 10 doesn't works properly while you try to activate the license first time. However, there are also cases when you lost the activation status after performing a major upgrade. Recently, we came around such a problem after upgrading one of our Windows 10 machine to Creators Update (V1703).
This machine was activated but after performing the upgrade, there was a watermark to activate Windows on the bottom-right corner of the screen. Clicking that watermark takes to activation page where following error displayed:
Windows can't activate right now. Try activating again later. If that doesn't work, contact support. Error code: 0xC004F012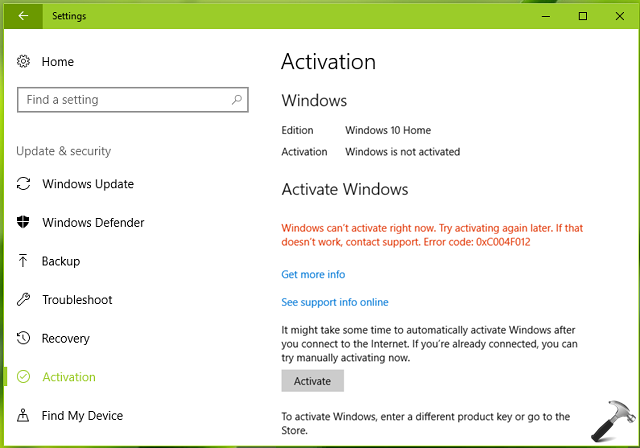 In some scenarios, error 0xC004F012 can be interpreted as "The Software Licensing Service reported that the call has failed because the value for the input key was not found." Technically, this indicates that the licensing repository on the system was either missing or corrupt.
If you're not sure what to do from here, this article is for you. As the licensing repository is corrupted/missing, you need to rebuild the license store on your Windows 10. Follow the steps mentioned below to rebuild license store and thus consequently fix this activation error:
FIX: Windows 10 Activation Error 0xC004F012
1. Assuming Windows is installed on C: drive, press

+ R to open Run, type C:\Windows\System32\SPP\Store\2.0 and click OK.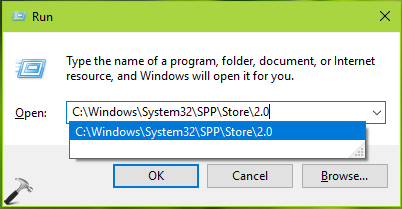 2. In the 2.0 folder so opened, rename the tokens.dat file to tokens.old. Close File Explorer.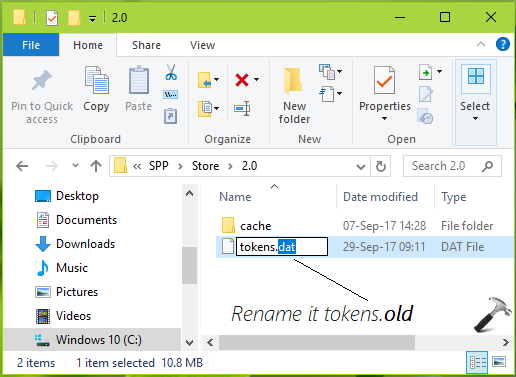 3. Open administrative Command Prompt i.e. right click Start Button, select Command Prompt (Admin). In the Command Prompt window, type these commands and press Enter key after each:
Net start sppsvc
Cscript.exe slmgr.vbs /rilc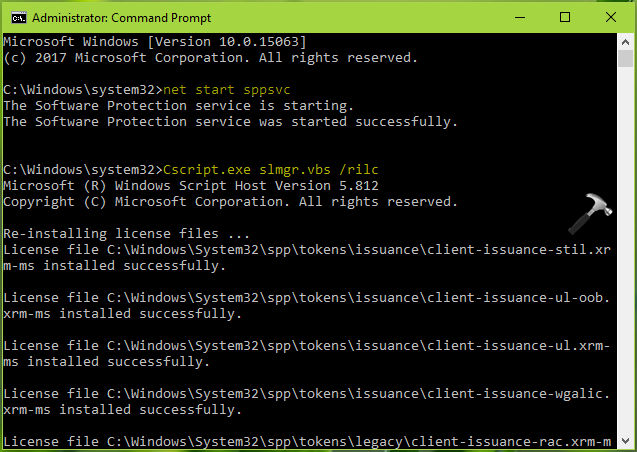 Let the commands completed and if any pop-up window appears during command execution, close it. Exit Command Prompt and reboot the machine twice.
4. After two reboots, go to Activation page in Settings app and run Activation troubleshooter. Your system must be activated now.
Hope this helps!