Good news for Office for Mac users! Microsoft has finally released Office 2016 for Mac. Formerly, the company released Office 2016 for Mac Public Preview in March 2015. After collecting user feedback and implementing it to omit bugs, Microsoft has released the stable version which users can now buy and install.
Office 2016 for Mac is no longer lagging from its brother edition available for Windows. Both the Office 2016 – for Mac and Windows are pretty similar now and it will definitely help users to feel comfortable using Office applications on corresponding OS. It's the time for Mac users, who are getting new iteration update just after Office for Mac 2011. As we all know that Office for Mac comes only with four components – Word, PowerPoint, Excel and Outlook. However, this time you're getting OneNote also, plus a close OneDrive integration with each components in this edition. This Office 2016 for Mac can be used only on Mac OS X Yosemite:
See : Mac OS X Yosemite : Getting Started Guide For Windows Users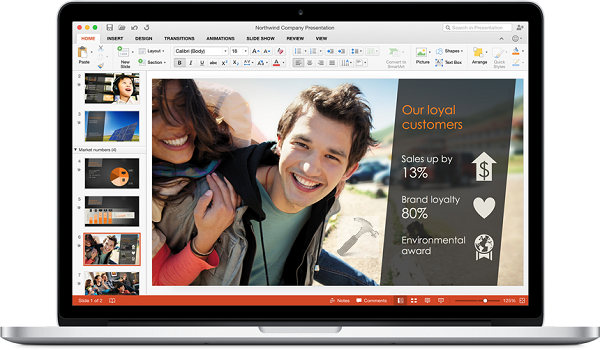 Here are the highlighted features of Office 2016 for Mac:
Microsoft Released Office 2016 For Mac : What's New
1. The new Word for Mac has state of the art editing, reviewing, and sharing tools. The new Design tab provides quick access to features and the new Format Object task pane gives you complete control over pictures, shapes, and effects.
2. The new Excel for Mac brings you a fresh user interface as well as many functions from Excel 2013 for Windows. You'll even be able to use your favorite keyboard shortcuts, giving you a more consistent cross-platform experience.
3. The new PowerPoint for Mac brings new slide transitions, an improved Animations task pane, and an improved coauthoring experience, including threaded comments alongside your slides and the ability to visually compare version conflicts and confidently choose the right one to keep.
4. OneNote allows you to take your notes wherever you go while sharing and collaborating with others.
How To Get Your Copy Of Office 2016 for Mac
You can follow either of these ways to obtain your copy:
1. Go to nearest Microsoft Store available to you, and purchase your copy.
2. If you're Office 365 subscriber, you can get it from Office 365 portal. Just log in to your account, and in the admin panel, click Download software link at right sidebar.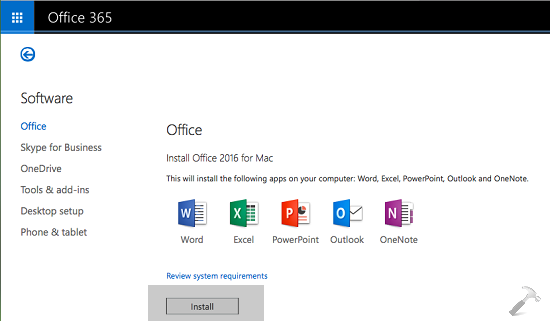 Then click Install button in the next screen and the Office 2016 for Mac will be downloaded automatically.
3. If you've installed Office 2016 for Mac Public Preview, you would have noticed that the preview version is expired and when you open any app, you get following error: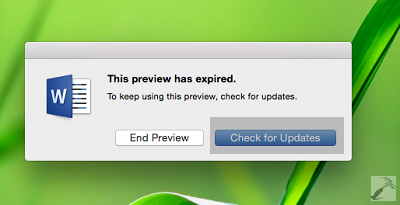 So click on Check for updates option and you can install Office 2016 for Mac app individually from this way: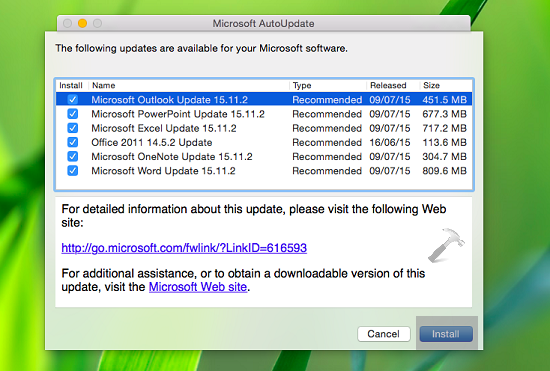 4. You can also download the apps individually from Microsoft Support KB article.
How To Install Office 2016 for Mac
This step-by-step installation guide will help you to install:
How To Install Office 2016 For Mac Using Office 365 Subscription
You can also read the complete review of Office 2016 for Mac in this article:
REVIEW : What's New In Microsoft Office 2016 For Mac
Enjoy the Office 2016 for Mac! Must reads:
1. [FIX] "The Installation Failed" Error While Installing Office For Mac