We've covered a series of important tiles on Windows 8 since long time in past. As we have quoted many times that there are a lot of hidden possibilities exists for Windows 8. One of the most anticipated and highly desired features lacking in Windows 8 is the ability to pin Modern (Metro) apps to the taskbar. Microsoft doesn't seems to be making it possible to do. So the only option we have to use third-party app to do that.
OblyTile : Pin URLs, Files, Folders As Modern Apps
Although third party apps is not recommended by Microsoft as they oppose the company End User License Agreement (EULA). However, due to need of customization, we can rely upon some of the well rated third-party apps. "OblyTile" is one such app. This little app can be used freely to bring out the possibility we're talking above. Using OblyTile, you can make a tile simply and embed anything in it like URL, file location or a folder path.
This is of course beneficial to those one who like to more and more items to their Start Screen. Addition of tiles is simple, and you can drop any interesting image for tile background as per you requirement.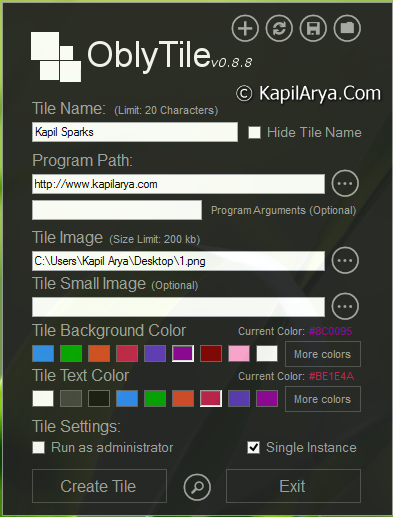 So without wasting your time anymore, lets share you the way to keep this method working, it is illustrated in following points:
OblyTile : How To Use
1. Download the OblyTile setup at http://win8tiles.com/Content/OblyTile%20v0.8.8.exe. Then run the setup file as administrator of your account.
2. On running the setup, you'll get above shown window. Fill the formal entries there, like the tile name, tile type and its corresponding data. For tile image, cut your desired image in 120×120 pixel format. Tile small image is of format 30×30 pixel, will be used to display tile in search results.
3. Finally, pick the tile background color, its important if you do not want to use any image. Lastly, click Create Tile after specifying its priority to run. As soon as click Create Tile, a message for confirmation of done is displayed. Here is your created tile :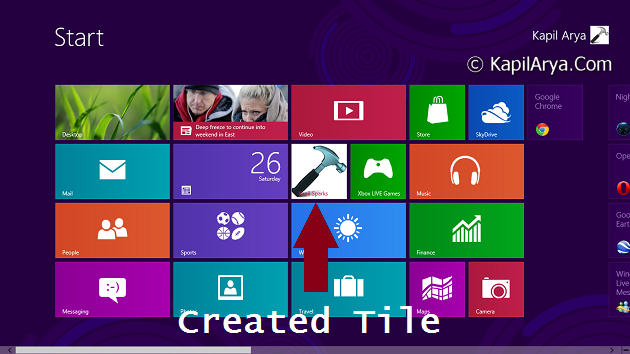 4. You can also access the Tile Manager using last icon at top right bottom of tool's window, where you can edit or delete previously created tiles.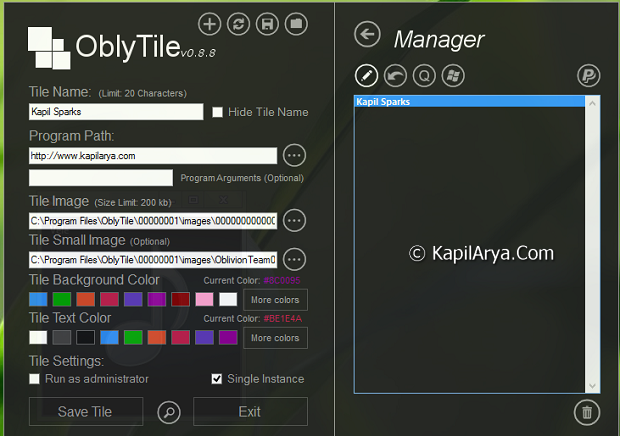 5. Now lets unveil the foremost feature and its the tendency to create shortcuts for native Windows 8 Metro Apps, here is that: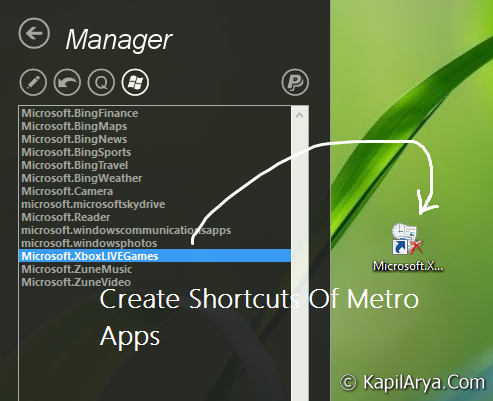 OblyTile : FAQs
1. How do I create website shortcuts?
Answer: Enter the URL to the site you wish to visit. This will open the site in the default browser. You can also create shortcuts specifically to your chosen browser and input the URL in the program arguments field.
2. What size tiles can OblyTile use?
Answer: Windows 8 and OblyTile support tiles in .png format up to 200kB in size. The resolution is less important than the file size, although the recommended resolution for tiles is at least 120×120 and no larger than 256×256.
3. Can I make rectangular tiles?
Answer: The creator of OblyTile is hard at work on trying to find a way to support creation of rectangular (2 column wide) tiles. He does not currently have an ETA on when or if this will ever work.
4. I created a tile that I don't like, how do I remove it from my Start Screen?
Answer: Right click on the tile on the start menu and click "Unpin from Start".
How do I create a tile for "My Computer"?
Answer: Set the program path to "C:\Windows\explorer.exe" (or wherever Windows is installed) and set the program arguments to "Shell:MyComputerFolder".
Hope you find the tool useful!