Metro fever is nowadays can be seen everywhere. If you're a customization lover like me, you may like to try new things related to Modern UI. As we all are familiar with Metro tiles, a concept to use them on Desktop section would be a nice idea. Especially, if you're still using Windows 7, you can use this concept to avail Metro tiles on your Desktop.
Pulmon : Significant Freeware To Get Metro UI Based Start Menu
Meet "Pulmon", a freeware coded by our friend Paras Sidhu to get an absolute replacement for the Desktop shortcuts on non-Metro UI Desktops. Using this tool, you can add useful & beautiful colored tiles like clipboard, shutdown panel, drive meter, system information pane etc. Have a look at Pulmon in action: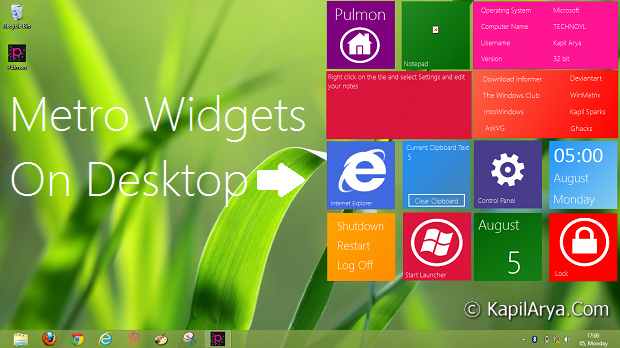 Pulmon : Features
Following are the worth mentioning features of this utility:
Fixed and Updated User Interface: Simple and light UI, very appealing to look at
Ultra lightweight: Pulmon is a light weight and portable utility weighs less than a megabyte
Mozilla Firefox Tile: New revamped Mozilla Firefox tile lets you to access web on the go
Metro Fonts : The tiles are supposed to look like actual tiles of Start Screen, for that font is kept same as of inspired UI
Customization In Webby Tile: Webby tile inside the software lets you to manage your favorite sites on the tile
Shutdown Manager Tile: This one is important for Windows 8 users, as there is no option to shut down the system directly
Optimization for different DPIs: The software enjoys great optimization for different DPI treated with it
 Pulmon : Download & Usage
You can download this light weight customization tool at https://dl.dropboxusercontent.com/u/14492668/Pulmon%202.1.zip.
Now, here are the instructions to use the utility: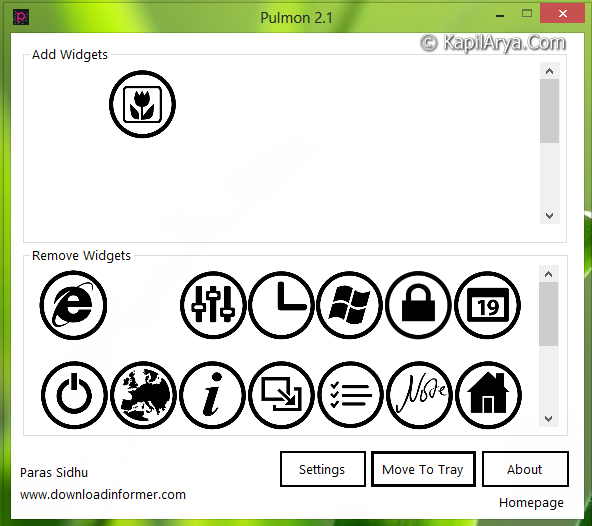 Download and run the application, you will see two groups "Add Widgets" and "Remove Widgets"
Click a tile in "Add Widgets" group e.g. Weebly
After clicking the option, the tile will be immediately add to Desktop and you can drag and drop it anywhere you like
Clicking on any option available in "Remove Widgets" will add the things back to "Add Widgets" removing thess corresponding item from Desktop
Hope you enjoy this tool!