While browsing via Internet Explorer, when you browse secure sites, the browser cross checks all the details in the security certificate. It even checks the security information for OpenSSL sites in order to provide you a safer browsing experience. Today, we came around following Security Alert while we visited a secure site:
Revocation information for the security certificate for this site is not available. Do you want to proceed?
[Yes] [No] [View certificate]

As soon as we observed this message, we checked whether there was an validity issue with the site certificate by clicking View certificate. You can also check any site's certificate, any time by clicking on secure icon at address bar -> View certificate. Then switch to Certification Path in below shown window and verify Certificate Status. In our case, the site with which we got above mentioned Security Alert has a valid certificate: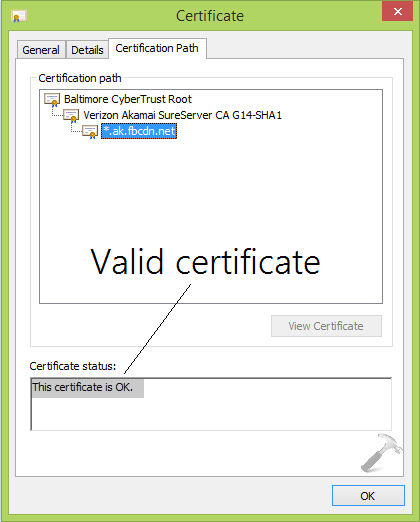 Even after we're keep getting the message box and we need to choose No option again and again. We also tried to install the certificate to machine and then Internet Explorer crashed.
Read : Internet Explorer has stopped working
If you're also having same problem, try this:
FIX : Revocation Information For The Security Certificate For This Site Is Not Available
1. Press

+ R, type inetcpl.cpl into Run dialog box and click OK to open Internet Options. Alternatively, you can press Alt+X in Internet Explorer browser window and then select Internet Options entry.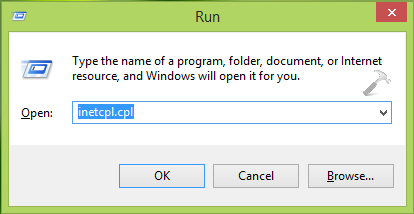 2. In the Internet Options window shown below, switch to Advanced tab first. Then in the Settings section, scroll down and look for Check for publisher's certificate revocation entry which is under Security options. This must be checked by default, so simply uncheck it and click Apply followed by OK.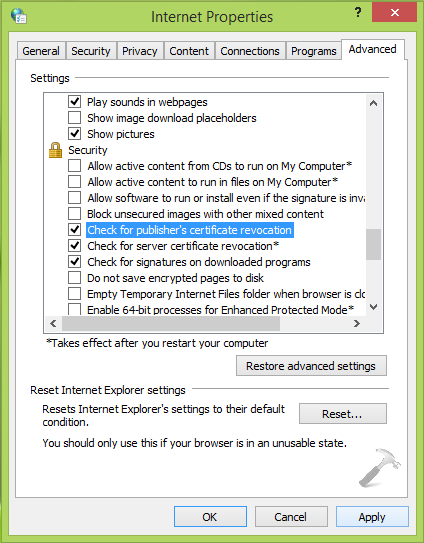 Finally, restart your system and open Internet Explorer, visit the site with which you're facing issue. You'll find that you're no longer getting Security Alert for site certificate, which is OK.
That's it! Go here to learn how to prevent deleting of download history in Internet Explorer.