On the basis of your locality, the network connections used in Windows 8 or later can be Public, Private or Domain type. These three network layers distinguishes the type of network and the permissions it has. On a general scale, we define these layers as follows:
Public Network: It is for networks in public places. This location is designed to keep your computer from being visible to other computers around you and to help protect your computer from any malicious software from the Internet. HomeGroup is not available on public networks, and network discovery is turned off. You should also choose this option if you're connected directly to the Internet without using a router, or if you have a mobile broadband connection.
Private Network: This could be either Home Network or Work Network. A Home Network is when you know and trust the people and devices on the network. Computers on a home network can belong to a homegroup. Network discovery is turned on for home networks, which allows you to see other computers and devices on the network and allows other network users to see your computer. While if you're on Home Network allows you to see other computers and devices on a network and allows other network users to see your computer, is on by default, but you can't create or join a homegroup.
Domain Network: It is the location used for domain networks such as those at enterprise workplaces. This type of network location is controlled by your network administrator and can't be selected or changed.

Sometimes, you may need to switch from one of these layers to another one. The procedure used for that can be followed using the steps mentioned here.
How To Switch Network From Public To Private And Domain In Windows 10
Registry Disclaimer: The further steps will involve registry manipulation. Making mistakes while manipulating registry could affect your system adversely. So be careful while editing registry entries and create a System Restore point first.

1. Press

+ R and put regedit in Run dialog box to open Registry Editor (if you're not familiar with Registry Editor, then click here). Click OK.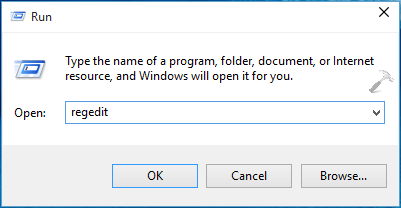 2. In the left pane of Registry Editor, navigate to following registry key:
HKEY_LOCAL_MACHINE\SOFTWARE\Microsoft\Windows NT\CurrentVersion\NetworkList\Profiles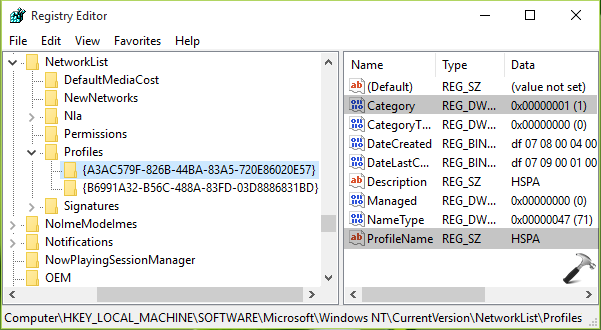 3. At this registry location, expand the Profiles key in the left pane. Then you'll see long sub-keys with different Globally Unique Identifiers (GUIDs). The number of sub-keys here equals to number of networks you've joined till date and each network has a unique sub-key. In the corresponding right pane of sub-key, locate the ProfileName registry string. Its Value data should correspond to the name of respective network. So in this way, select the GUID for your network and in the right pane, look for Category named registry DWORD. Double click on it to modify its Value data and so the location type: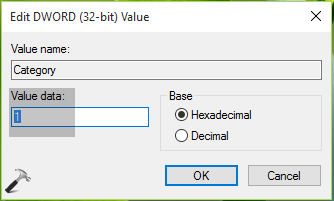 4. In the above shown box, set the Value data to 1 for Private, 0 for Public and 2 for Domain network. Click OK after making the registry manipulation and close the Registry Editor. Restart or reboot your system to make changes effective.
Following video illustrates this method:
That's it!