Today, while working with the Disk Management utility, I found that I cannot shrink or extend a disk volume because of a strange error. The complete error message appeared via Virtual Disk Manager in this case is as follows:
The I/O operation has been aborted because of either a thread exit or an application request.

There are a lot of things which could result into this error, for example, some critical file corruption. Also this same error may appeared to you at other Windows snap-ins as well, such as in Device Manager or while running third-party software. This post will help you to deal with this issue, using some generally accepted suggestions, which are mentioned below:
FIX : The I/O Operation Has Been Aborted Because Of Either A Thread Exit Or An Application Request In Windows 10/8.1/8/7
1. Reboot the machine when you get this error, as restarting Windows may help in some cases.
2. As a first step of troubleshooting, you must run SFC /SCANNOW command in administrative Command Prompt.
3. If System File Checker found corrupted files but can't repair them, go ahead with third DISM command mentioned here.
4. Users getting this error in Device Manager should first update all of the existing device drivers on their system. Also make sure you've latest Windows Updates installed on the machine.
5. If you're getting this error while connecting USB devices, simply uninstall existing entries of such devices and then reinstall them.
6. Some third-party software you use on Windows may interrupt native snap-ins and thus resulting into such error. So if you use some many third-party tools, you can try clean boot. Just run msconfig command, go to Services tab and check Hide all Microsoft services and then hit Disable all button. Reboot and check the status of issue. You can also do this step-wise, for each programs, one-by-one disable the corresponding services and keep checking, if the issue resolves.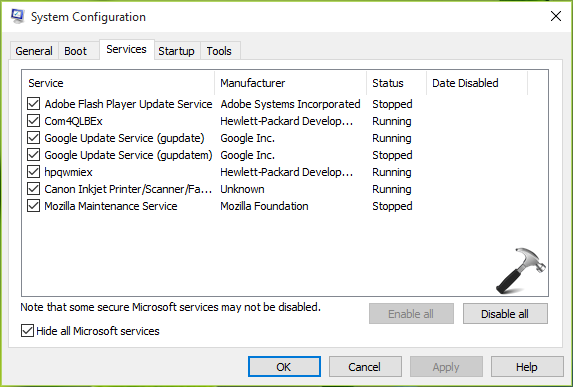 7. If problem continues to survive anyway, you can go ahead and Refresh Windows 10 then, this would not affect your data.
Something should help!