To make your computing experience more better, you can synchronize your settings between multiple Microsoft devices. This is possible with Windows 8 or later, and sync helps you to have same theme; app settings etc. etc or various gadgets. If you have more than one Windows running device then you just need to use same Microsoft account on both, and rest of stuff will be synced automatically, provided if Syncing settings options are turned on the two.

To make the picture more clear, refer to above shown screenshot. Here in the first section, we can see the Desktop of Windows 8.1 running device, while in the second section, the synced Desktop at Windows 10 running device can be seen. We just put the Desktop wallpaper on Windows 8.1 system and used the Microsoft account on Windows 10 device, which automatically synced the wallpaper. In short, we don't need to setup stuff for Windows 10 and the Microsoft account did it all for us.
Hence, from the above discussion, its quite clear that sync made our work easy when it comes to manage multiple systems. Here is how to enable or disable it:
How To Enable Or Disable Syncing Settings In Windows 10
1. Open Settings app and navigate to your account section. Here you just need to confirm that you're already switched to Microsoft account or not. When you're switched to Microsoft account, you'll be able to see the connected email ID beneath your user name.
Refer this if you can't switch to Microsoft account : [FIX] Can't Switch To Microsoft Account In Windows 8 Or Later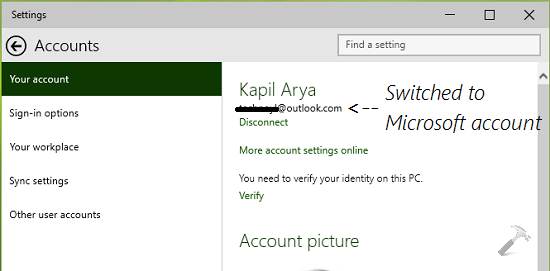 2. Next, in the left pane of above shown window, select Sync settings. In the right pane of same window, turn On the Sync settings option. This will make your settings unified across various Microsoft devices, on which you need to use same Microsoft account as on existing one.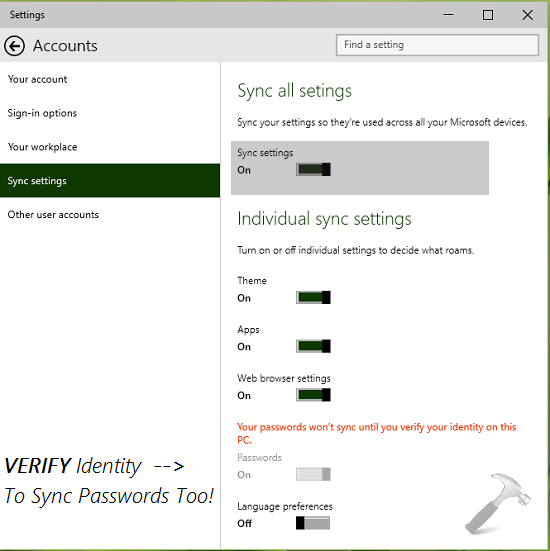 Here, you can individually configure settings for Desktop (Theme), Apps, Internet Explorer (Web browser settings), Language preferences. You can even sync passwords to, but this will need to verify your identity first. However, from the security point of view, we don't recommend you to sync passwords here.
3. To make changes to Sync settings effective, reboot the Microsoft devices on which you're expecting these settings to work. If you don't want sync your stuff, simply turn Off the Sync settings option which we turned On in previous step.
Hope you find syncing settings useful! Go here to learn how to find Windows Experience Index on Windows 10.