Mozilla Firefox is the native browser I use on my Windows. The reason behind using it is its sensible working and simple interface. Till now many guys have asked me the easiest way to recover lost tabs for a session in this browser. The solutions posted already about this on web are little bit techie, involving about:config tweaks. Since not every user is a technical guy, so we need a minimal solution to resolve this.
Today, one more time I lost all the tabs by accidentally clicking the X button of the Firefox window. So as usual I restarted the browser but Firefox started a new session. Then I came around a simple trick which progressively helped me to regain the tabs I've lost so far. In other words, it completely restored the session. So I considered it worth sharing with you folks here:
Simplest Trick To Recover Lost Tabs In Mozilla Firefox
1. To test out this trick, open a considerable number of tabs in Mozilla Firefox window.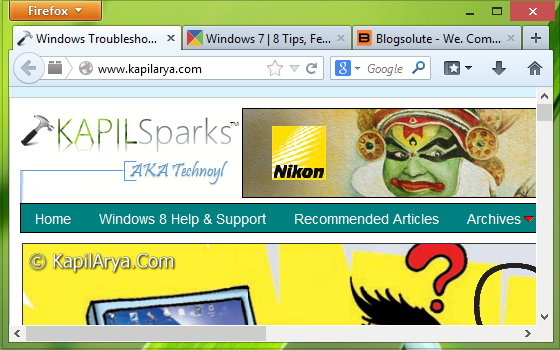 2. Now close Firefox window by X button at the top. Then restart Firefox, and type or paste following in the address bar:
about:home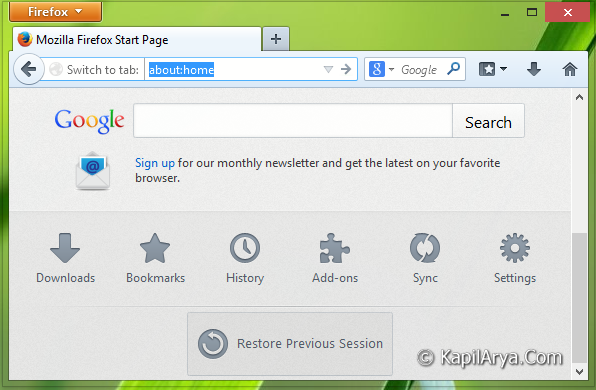 NOTE: By default, Firefox opens this page whenever it starts but if you've set any custom page as the homepage, then you need to type about:home manually to get the above shown page.
3. In the above shown image, click on the Restore Previous Session and the it will suddenly regain all the tabs you've lost previously: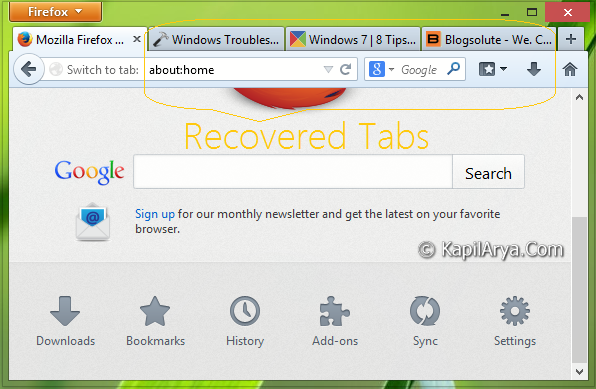 In this way, the recovery of tabs get done. Now according to your priority, click those tabs which are important to you and Firefox will start loading the pages on them.
Hope you find the tip useful!