No doubt, Windows is the most simplified operating system for computers. Microsoft has tried to keep their operating system minimal as much as possible so that even non-techie users can operate it very easily. But when you grow up to power user, you may need to add some additional features to your Windows OS like adding context menu option to take ownership of files, creating system restore point in single click, removing taskbar and so on. To extend these possibilities, most probably we have to tweak or manipulate system configuration.
Meet "Ultimate Windows Tweaker 3" (UWT), a must have utility designed for the purpose of tweaking Windows in handy way.
See also : All-in-one WinAero Tweaker For Windows
This small yet smart utility has been released by our friendly site "The Windows Club". The same site has released many successful freeware in the past aiming to Windows enhancement. Well, UWT is for power users as well as for beginners. It supports Windows 8, Windows 8.1 (in both 32-bit & 64-bit) and Internet Explorer 10, 11.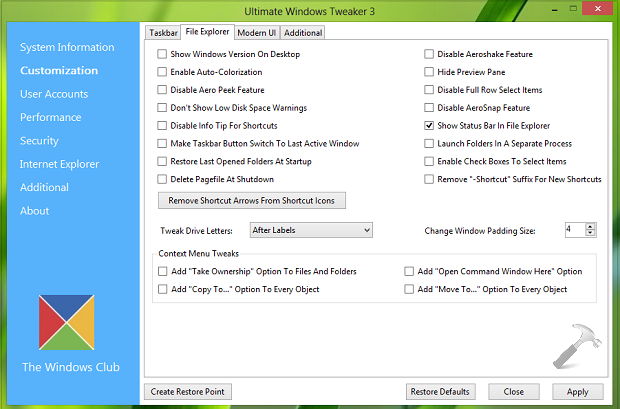 Following are the features of this tool claimed by developer:
Ultimate Windows Tweaker : FEATURES
Easy to use simple user interface
Tool tips offer you guidance as to what the tweak does
Offers accessible buttons to create a system restore point and restore default values
Tiny tool, super lightweight at just around 340 KB
Power-packed with 170+ meaningful tweaks
Portable tweaker. Does not require to be installed. To uninstall it simply delete its program folder
Does not contain any adware, nor does it push crapware; and we promise not to, ever!
You can download, explore more about this super-cool utility at http://www.thewindowsclub.com/ultimate-windows-tweaker-3-windows-8.
Here is the video illustrating UWT in action:
In the nutshell, UWT is the utility you should have on Windows. Without consuming lots of time in manipulating registry, the tool can be used to achieve aim in short piece of time. The tool includes most common tweaks that an user is supposed to be required. The user interface is simplified, and the ability of tool is smart as far as I observed. Make sure you've created "System Restore" point prior to use it.

Hope you find the tool useful!