There is new OS coming in the town and its Windows 8.1. Many of you have heard about this update for Windows 8. Today in this article, I'm going to give detailed overview about this update. Windows 8.1 will be purely concentrated for Windows 8 existing users. We're going to discuss about this whole drama in this article.

Windows 8.1 was codenamed as "Windows Blue". Codename is given to the software which is in the development phase. When the development is over, developers give a new name to the stable copy. Here it is given as Windows 8.1. According to the experts, it is considered as service pack to Windows 8.
Why : Windows 8.1?
Back to the October 2012, Microsoft launched its first touch operating system named as Windows 8. But after the release, the new users are facing kinda issues on this operating system. Many guys are saying that the operating system is buggy. Moreover, many users have downgraded to Windows 7 after trying Windows 8, which was completely against the Microsoft's strategy.
Add to these, Windows 8 wasn't able to impress the PC Market sellers. So to meet out such issues, Microsoft has finally decided to provide an update to its first touch OS. Windows 8.1 will be a free update which will be available in the last week of June 2013. Some days ago, Microsoft has confirmed that they will release the Preview Build of Windows 8.1 on 26th June 2013, at BUILD Developer Conference in San Francisco.
Microsoft has also confirmed that the Public Preview of Windows 8.1 will be released for both Windows 8 and Windows RT users. The final RTM version of Windows 8.1 will be released at the end of this year. It might release to market in October 2013.
Windows 8.1 Features
According to the official source, we're about to get a bunch of new features in Windows 8.1. The best part of this update is that you don't need to pay for anything. Like you download and install Windows Updates, you can install Windows 8.1 as an update. I have summarized some of the key features that we're about to get in Windows 8.1.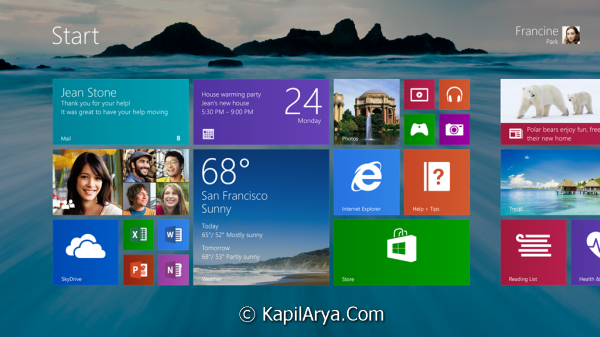 1. In Windows 8.1, users will now be able to display personal pictures on your lock screen. You can even turn your lock screen into a slide show, by sourcing the photographs locally or from your SkyDrive account.
2. Windows 8.1 will also add the ability to take pictures with the built-in camera right from the Lock screen without having to log in. You can even set your desktop wallpaper as your start screen background.
The start screen also introduces a new large and a new small tile size. You have news to organize your tiles, name tile groups, select them, resize or rearrange them all and more. To avoid accidental tile movements, you will now need to press and hold (or right-click) to move things around.
Windows 8.1 also gives you the ability to filter your apps by name, date installed, most used, or by category.
3. The Start Button debut is over and Microsoft committed that Windows is incomplete without it. They are going to restore it in Windows 8.1.
4. PC Settings will now give you access to all the settings and you will no longer need to open the Control Panel.
5. Microsoft has made configuration options available which will allow you to boot directly to the desktop in Windows 8.1. This has made Modern UI optional.
6. Windows 8.1 is going to provide you Internet Explorer 11. Internet Explorer 11 improvements include faster page load times, side-by-side browsing of your sites, enhanced pinned site notifications, and app settings like favorites, tabs and settings sync across all your Windows 8.1 PCs. Internet Explorer 11 now includes capability that enables an antimalware solution to scan the input for a binary extension before it's passed onto the extension for execution.
7. All built-in Windows apps will be improved and new features will be added. Windows 8.1 introduces variable, continuous size of snap views. You will have more ways to see multiple apps on the screen at the same time. You can resize apps to any size you want, share the screen between two apps, or have up to three apps on each screen.
8. The Windows Store in Windows 8.1 will show more information now. It will display detailed lists of top free apps, new releases, and picks for you on the homepage.
9. In Windows 8.1, the Search charm will now provide global search results powered by Bing in a rich, simple-to-read, aggregated view.
10. Windows 8.1 will allow users to disable hot corners such as Charms Bar and recent app switch list. These hot corners stuff appear when you move your mouse cursor to top-left or top-right corners of screen.
These are the hot spot features which will house Windows 8.1. Interested readers can deeply read about them on TechNet.
Windows 8.1 : First Look
To see out Windows 8.1 in action, Microsoft has revealed the following video to impress the users. This video explores some of the new customization introduced in the update. Have a look:
So in the nutshell, Windows 8.1 is going to must have for Windows 8. We're really excited about this and like to hear your voice as well!