When you boot your Windows machine, it checks all the necessary configuration files required to make a successful startup. Thus if any of the file involved in this process is corrupted or missing, Windows would not able to boot the system at all.
See : FIX: Windows 8 freezes at boot screen
Today, in this article, we'll talk about one such problem when the BCDboot file (responsible to boot the system) is corrupted or missing. In this case, you're likely to receive following error when you boot the system:
Recovery
Your PC needs to be repaired
The Boot Configuration Data file is missing some required information.
File:\BCD
Error code: 0xc0000034

Users who have faced this situation are supposed to Refresh or Reset the system. But you can't even do that because when you're going to Refresh, following error will appear:
The drive where Windows is installed is locked. Unlock the drive and try again.

Must check also : There Was A Problem Refreshing Your PC. No Changes Were Made.
Next, moving on to Reset option, here you'll receive this message:
Unable to reset your PC. A required drive partition is missing.

So both of there error messages clearly implies that you can't use Reset or Refresh option. The only option we're left with is making a clean install by formatting the drive. But if you're having important data on the existing drive, I believe you won't be able to convince yourself for clean install.
Read : How To Do Clean Install Of Windows 8 Or Later
So here is how to fix this issue using System Recovery Drive:
FIX : The Boot Configuration Data File Is Missing Some Required Information In Windows 10/8.1/8
1. If you're having the System Recovery Drive, plug it to your system and then boot into System Recovery Options. Hit the Command prompt option: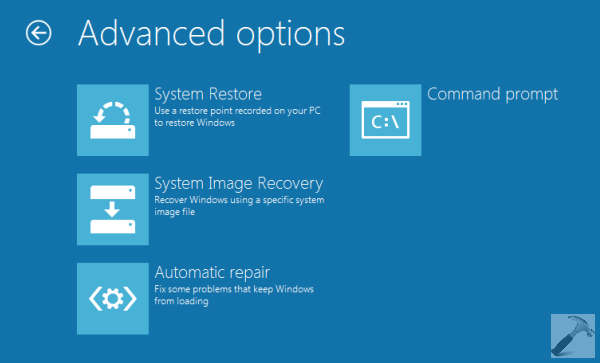 2. Previous step will result in opening of administrative Command Prompt. All you need to do is to enter following command and followed by Enter key:
bcdboot c:\windows
Substitute C: with your system root drive letter in the above mentioned command. This command allows to copy BCDboot file from existing Windows partition to motherboard partition and creates the BCD store in the same partition.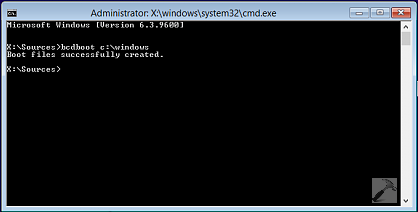 3. So we're almost done with troubleshooting, now you can remove the System Recovery Drive and reboot the machine. Your system should now boot into OS without any hitch.
Related:
1. FIX: Error "0xc000000f – The Boot Selection Failed Because A Required Device Is Inaccessible"

2. FIX: The Boot Configuration Data File Doesn't Contain Valid Information For An Operating System
Hope this helps, Good luck!