When you upgrade your Windows operating system (OS), the operation may fail because of contradiction of features/services available in existing OS and the OS you're trying to install. In this article, we're going to talk about one such common error that is faced by most of users in this condition. Here it is:
Windows could not configure one or more system components. To install Windows, restart the computer and then restart the installation.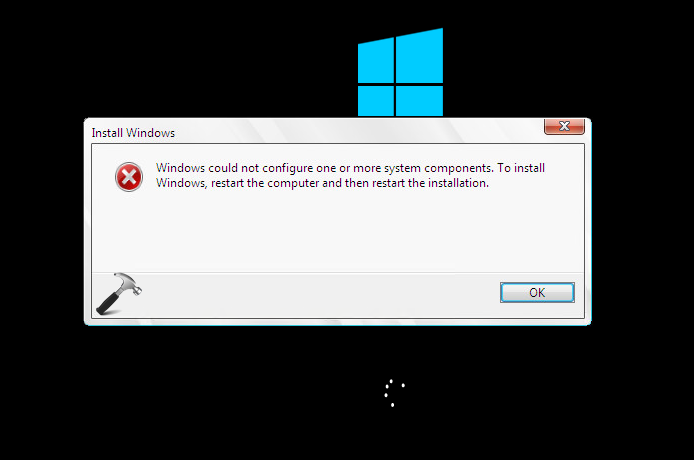 As suggested by error message itself, users would restart the upgrade. However there is no change in situation and they still get same error. Also there is no hint or support link available with this error message so that we can fix it. The recommended procedure to fix this problem is by examining and analyzing setup logs. To help you guys more this issue, here are some suggestions:
FIX : Windows Could Not Configure One Or More System Components While Installing Windows 10
FIX 1 – Install All Windows Updates Available
Many times users don't install all Windows Updates available to them. On an another note, sometimes Windows Updates itself fails to install all of updates. If you're victim of this issue, make sure your existing Windows OS has all latest updates installed. You may also run Windows Update Troubleshooter to found and fix issues with Windows Updates:
Using Windows Update Troubleshooter (Windows 10)
Get Windows Update Troubleshooter (earlier OS)
FIX 2 – Analyze Log(s) To Locate Fault
If you're upgrading, you'll may locate the log file for upgrade process at C:\$Windows.~BT\Sources\panther\setupact.log. Here, you've substitute C: with you system root drive and note that $Windows.~BT is hidden folder. Once you get your log file, you can start a new thread at Microsoft Community or Technet ITPro Forums and include you log file in the post. I'm quite sure that crash and dump expert Microsoft MVPs or Microsoft Support Engineers will assist you there, to help you further on the issue.
FIX 3 – Perform Clean Install Of Windows
The issue is more likely to faced while you upgrade. Hence a straight forward solution is to make a clean install instead. Here is the guide for that:
How to make clean install of Windows 10
If you're worried that by making clean installation, your data will be erased, then here is a trick. You should make clean install on a parallel drive to your existing Windows OS. The result would be dual boot system, correct? Okay now using File Explorer, you can move/copy all of your data from previous OS to newer OS. Once you're done, you can go ahead with newer OS and delete the former one to gain its hard disk space. In this way, you've bypassed the problem plus you're also on newer OS without any data loss.
That's it!