When you open user account profile in your Windows OS, you'll see ntuser.dat file, if you've hidden items enabled. This ntuser.dat file is present on each of user account profiles you've on the system.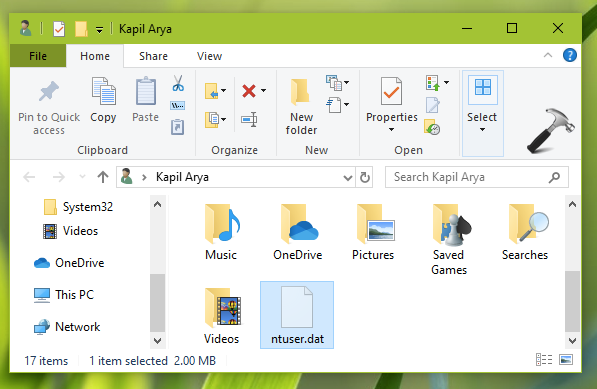 You might be thinking what is this ntuser.dat file and why it present in each profile? What will happen if you delete or modify this file? How you can modify this file? In this article, we'll try to answer these questions.
FAQ: What Is NTUSER.DAT File In Windows 10?
Well, ntuser.dat file contains user's personalized settings for the software installed on the system. It also contains the personalized settings for Windows. The HKEY_CURRENT_USER branch of registry hive merges the ntuser.dat file as soon as user signs in. So you can see if ntuser.dat file is missing, users may receive 'The User Profile Service failed the sign-in, User profile cannot be loaded' error.
Usually, when users logs in to Windows, a new hive is created for the user with separate file for that user profile. You can also manually load or unload hive in registry. As per Microsoft, "hive is a logical group of keys, subkeys, and values in the registry that has a set of supporting files containing backups of its data". For HKEY_CURRENT_USER branch, ntuser.dat file serves the purpose of supporting files. The log corresponding to ntuser.dat file is written to ntuser.dat.log file which is also present in user profile.
You can open ntuser.dat file with Notepad or any other text editor. However, the file contents may require in-depth understanding of entities mentioned. For this reason, it is strongly recommended that you do not modify contents of this file. It is also advisable that you should not rename ntuser.dat file, otherwise it will directly impact the associated user profile and may result in corrupted user profile.
If ntuser.dat file for a user account is missing, or corrupted, you can copy the ntuser.dat file under default profile (C:\Users\Default, assuming Windows is installed on C: drive).
Hope you find the article useful!