Multiple user functionality is one of the best bet to use Windows in public domain. To avail this feature, you can create numerous profile in the same Windows copy with having one administrator account in the center. But sometimes, you may be subjected to issues after creating new user account and then using them. Today, we'll discuss one such issue in which you're not able to logon an user account/secondary account created on your machine.
The User Profile Service failed the sign-in.
User profile cannot be loaded.

After creating a new user and then log in into that account, you may face the issue login failed. Generally, the root cause here is User Profile Service, that manages the user account activities in Windows.
Except the error message, there is nothing provided to overcome this weird situation. If you're the admin of your system, and faced this issue after creating a new user account, you can use this procedure to fix this issue:
FIX : The User Profile Service Failed The Sign-in. User Profile Cannot Be Loaded.
Note:
Before proceeding, make sure you're logged in to your administrator account. We've illustrated this procedure with C: drive, so remember to replace it with your current system root drive for successive steps.
FIX 1 – Via File Explorer
1. Press

+ R and type C:\Users and click OK. Switch to View tab in the folder so opened, and check Hidden items option in the ribbon. You'll see a new folder now located inside this folder, named as Default. Rename this folder to Default.old.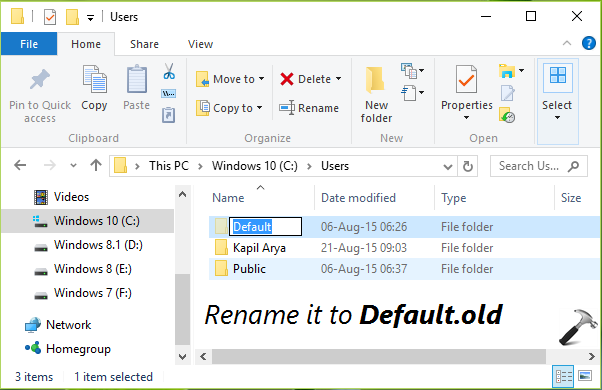 2. Now create a new folder named Default under C:\Users. Inside it, create following empty folders such that their location became:
C:\Users\Default\AppData
C:\Users\Default\AppData\Local
C:\Users\Default\AppData\Roaming
C:\Users\Default\Desktop
C:\Users\Default\Documents
C:\Users\Default\Downloads
C:\Users\Default\Favorites
C:\Users\Default\Links
C:\Users\Default\Pictures
C:\Users\Default\Save Games
C:\Users\Default\Videos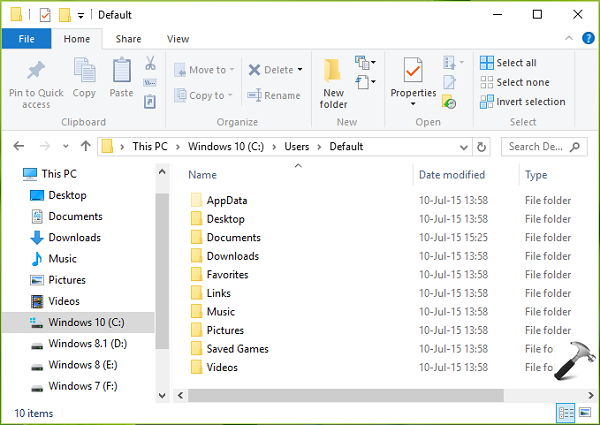 3. Next, open administrative Command Prompt and copy NTUSER.DAT file of issued account to C:\Users\Default using following command (replace <USERNAME>):
xcopy C:\Users\

<USERNAME>

\NTUSER.DAT C:\Users\Default

4. You can now create another user account and reboot, then log-in to that account. You'll find that you could easily logon there and issue doesn't occurs now.
FIX 2 – Via File Explorer & Group Policy
Checkout following video to see live illustration of this fix:
Hope this helps! See this fix if Group Policy Client service failed the logon on your user account.