Earlier, we've seen how to encrypt operating system (OS) drive with BitLocker in this guide. Today, in this article, we'll discuss yet another issue while you encrypt the OS drive. Well, if your system is a part of network, there may be some obstacles which can prevent from encrypting your OS.
Recently, we faced a similar issue on one of our Windows 10 Pro machine. Actually, while we're following BitLocker wizard steps and about to start encrypting the drive, we came around following error:
An unexpected network error occurred.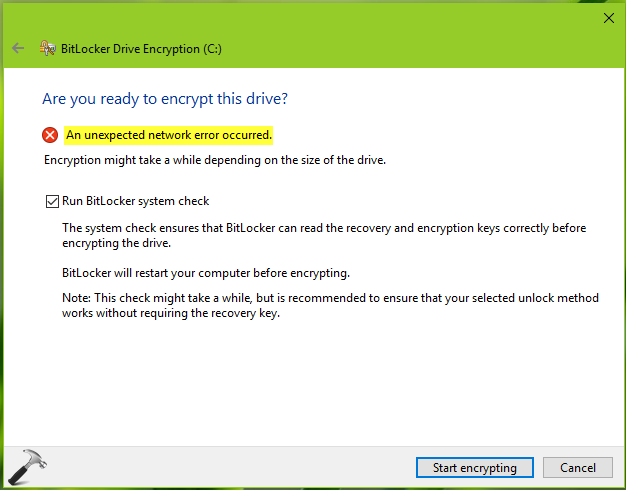 If you're also getting this error on your system, you can try below mentioned suggestions and see if they helps you.
FIX: 'An Unexpected Network Error Occurred' For BitLocker In Windows 10
1. First of all, make sure your system fulfills BitLocker system requirements.
2. If you're third-party security security software such as antivirus program or Windows Firewall installed, temporarily remove or completely uninstall it and see if you can proceed to encryption then.
3. Perform clean boot, and System File Checker (SFC) scan. If SFC scan doesn't helps, try repairing your system with DISM.
4. In case if you system part of domain, try isolating the machine from your network and check if that helps.
5. Make sure network discovery, file & printer sharing is turned on or enabled.
6. Try enabling SMB1 protocol, in case if it is disabled and see if that helps. You can follow the registry method mentioned in this guide to enable SMB1 protocol.
7. Please run Network Adapter troubleshooter from Settings app > Update & security > Troubleshoot. See if it finds any additional network issues, which may cause this issue. We've already posted most common network issues on this site, you can locate them here.
8. Some users who experienced this issue in past resolved it by turning of Windows Search service, so can give it a try. Open Services snap-in by running services.msc command. Right click on Windows Search service and click Stop. Check if you can encrypt the OS drive now.
We hope something from above should help you to solve this issue!