We all know Microsoft released Windows 10 Version 1903 to end users on 22 May 2019. You can see this post to learn about new features in Version 1903.
Recently, some users reported that they're not able to upgrade to V1903 because of Intel Rapid Storage Technology driver. When they try to upgrade, following message appears:
Intel Rapid Storage Technology (Intel RST)
The inbox storage driver iastora.sys doesn't work on these systems and causes stability problems on Windows. Check with your software/driver provider for an updated version that runs on this version of Windows.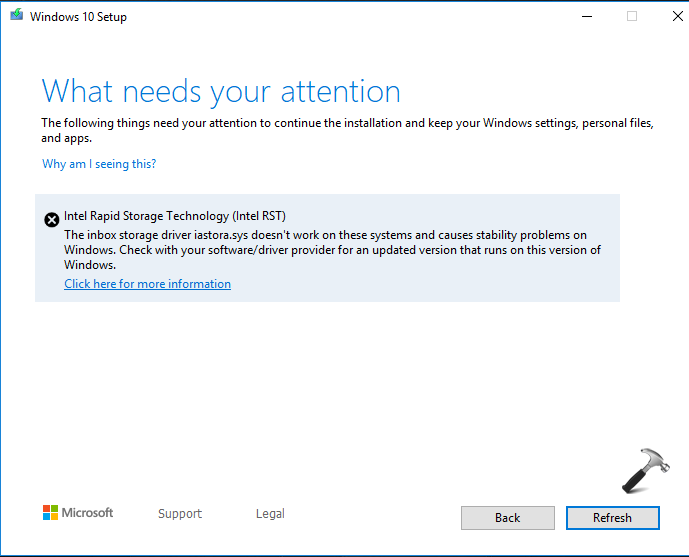 If you're also facing this trouble, below mentioned suggestions will help you.
FIX: Intel Rapid Storage Technology Driver Blocks V1903 Upgrade
FIX 1 – Upgrade Intel RST Driver
Intel Rapid Storage Technology driver provides enhanced performance and reliability on one or multiple serial ATA (SATA) or PCIe drives. Microsoft and Intel, both are aware of this issue. According to Microsoft, if Intel RST driver between version 15.1.0.1002 to 15.5.2.1053 is installed on your system, this issue occurs. Users having Intel RST driver 15.5.2.1054 or later can upgrade to V1903 without any problem. So to resolve this issue, you need install/upgrade Intel RST driver to version 15.5.2.1054 or later.
FIX 2 – Uninstall Intel RST Driver
If you do not find upgraded version of Intel RST driver for your system model, try these steps (after creating System Restore point) to bypass the error:
1. Uninstall Intel RST driver from Settings app > Apps > Apps & features.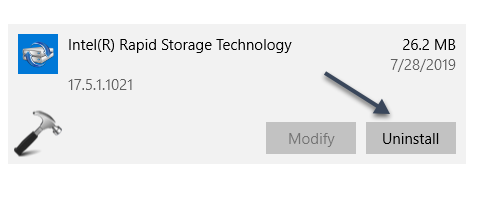 2. Run %sysroot%\System32\Drivers command and in Drivers folder, rename iastora.sys to iastora.sys.old.
3. Reboot to complete uninstall of driver and also to ensure your system boots up correctly.
4. If your system boots correctly, after restart, upgrade to V1903 and complete it.
5. Once the upgrade to V1903 completes, you can install Intel RST driver (version 15.5.2.1054 or later), if you like. Or you can continue system using without Intel RST driver, if it works fine.
Hope this helps!
Also see: This PC can't be upgraded to Windows 10 error while upgrading to V1903.