Windows Media Player is long-time member of Windows operating system family. The Windows Media Player version 12 is included with Windows 10 and it is available in latest version at the time of writing this article.
Sometimes users may face different type of troubles with this media player. The common issues includes:
Windows Media Player crashes/freezes
Windows Media Player won't open
Windows Media Player library corrupted
Windows Media Player won't stream media over network
Windows Media Player can't connect/detect playback drive/device
If you're facing any of the above mentioned symptoms with Windows Media Player on your Windows 10, see if below mentioned fixes helps you:
FIX Problems With Windows Media Player In Windows 10/8/7
Troubleshooter 1 – Windows Media Player DVD
This troubleshooter can solve following issues:
Windows Media Player missing DVD decoder to play DVD media.
It helps to detect whether DVD playback device attached to the device
If there are problems with the DVD playback device, Windows will take additional steps to further troubleshoot it.
Confirms installation of Windows Media Player, as it isn't pre-installed on certain Windows editions.
To run this troubleshooter from Control Panel > Troubleshooting > View all or follow this guide. To download this troubleshooter, go to aka.ms/diag_wmpdvd10.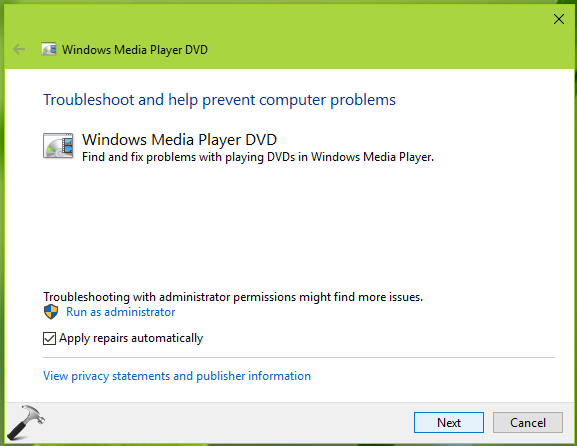 Make sure you run this troubleshooter as administrator and check Apply repairs automatically option while running it.
Troubleshooter 2 – Windows Media Player Library
This troubleshooter is helpful when you trouble with Windows Media Player library. It checks for corrupted media library and fixes it. It also checks whether Windows Media Player is pre-installed your Windows editions.
Follow this guide to run this troubleshooter. To download this troubleshooter, go to aka.ms/diag_wmpl10.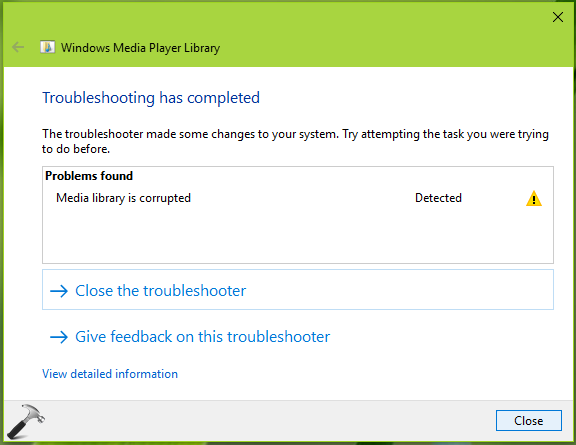 Troubleshooter 3 – Windows Media Player Settings
This troubleshooter checks if the settings used by Windows Media Player for streaming media over the network are corrupted. If the settings are corrupted, they might prevent you from playing content that is streamed, as opposed to content that is fully downloaded before being played.
The troubleshooter also checks for unexpected Windows Media Player behavior, which may due to configuration errors.
Check this guide to run this troubleshooter. To download this troubleshooter, go to aka.ms/diag_wmpc10.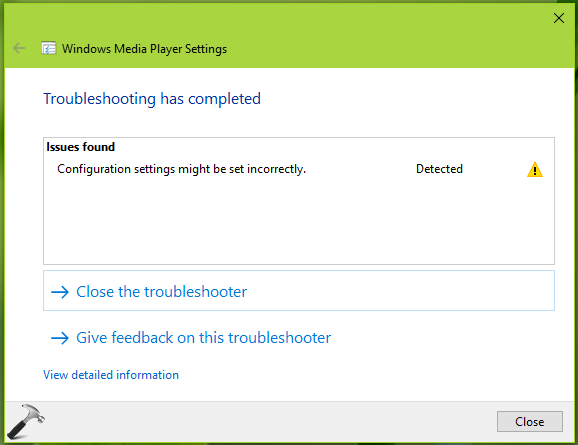 Reinstall Windows Media Player
If the dedicated troubleshooters didn't solve your issue with Windows Media Player, try reinstalling the player itself. Perform these steps:
1. Search for Turn Windows Features on or off using Cortana or Windows Search and pick same from results.
2. In Windows Feature box, under Media Features, uncheck Windows Media Player. Click OK and reboot the machine.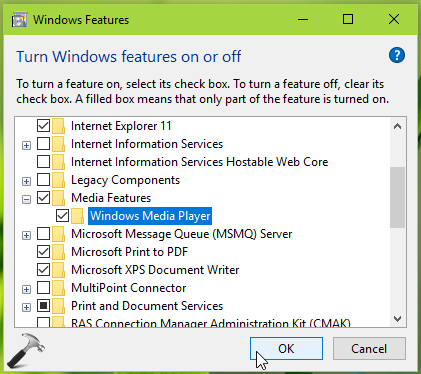 3. Reboot the machine and re-enable Windows Media Player by checking its option in Windows Feature box.
We hope something from above should help you to fix your Windows Media Player problem!