If you're unable to complete installation of feature update, then this article may interest you. While installing a feature update in Windows 10, sometimes the installation may aborted midway and you receive a message like this:
We could not complete the install because an update service was shutting down.

Image credits: MSA
Due to the above shown message, you can't update to a newer version from your existing version. Not everyone is facing this problem, but if you're experiencing, you're not alone as well. You may try below workarounds to get over this.
FIX: We Could Not Complete The Installation Because An Update Service Was Shutting Down
FIX 1 – Using Services Snap-in
1. Press

 + R and type services.msc in the Run dialog box, hit Enter key to open Services snap-in.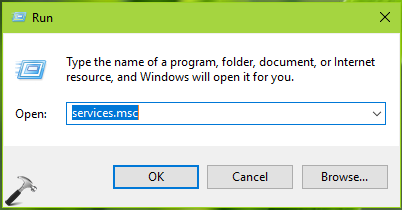 2. In Services snap-in window, locate the Windows Update service. You might spot it to set to Manual Startup Type. Double click on this service to modify its status.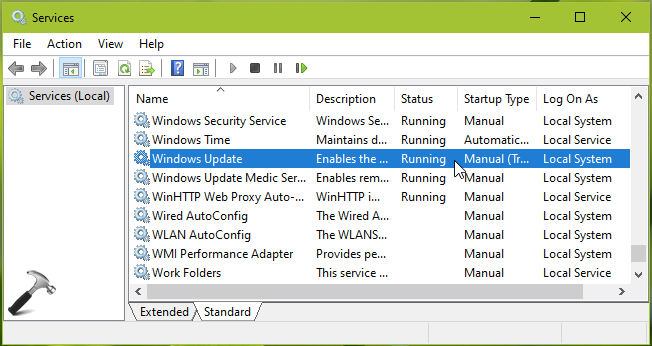 3. On the service property sheet, change the Startup type to Automatic and click Apply, followed by OK.
4. Retry to install the update and it should not fail this time.
FIX 2 – Other Suggestions
If you still continue to face the issue, refer these suggestions then:
1. Try temporarily stopping or disabling Windows Defender Service in Services snap-in.
2. Uninstall the third-party antivirus or security software present on your system, which may interrupt the update process.
3. Make sure to disconnect external devices (if any), while you're performing the update.
4. Fix the corrupted Windows Update database or try resetting Windows Update components.
5. Try updating via ISO file, which is usually a good method over as compared to upgrading via Windows Update. As of this writing, Microsoft provides latest Windows 10 version ISO file, when the new version is out.
Hope this helps! 
Don't forgot to read, how to manually download and install Windows Updates in Windows 10.