Users having Windows 10 might have noticed that when they go to users directory (C:\Users), there is an user profile named with 'defaultuser0'. If you're an active part of Windows Insider program, you might have even seen this defaultuser0 on sign-in screen of some builds. Now the question is – why is this 'defaultuser0' account present in Windows 10 and should you care about it?
What Is 'defaultuser0' Account in Windows 10 And Why Should You Care About It?
The defaultuser0 is nothing but a small bug present in Windows 10 builds. Some systems may show it is defaultuser(). It is an user account neither part of any user group nor it have any profile. Considering these facts, it is actually safe to remove it.
But you might be thinking what will occur if you don't remove it?
Well from past experiences, it has been observed that sometimes this defaultuser0 can create complex situations for you, like:
1. You performed Reset to Windows 10 and your account is lost. Then Windows 10  forces you to login as 'defaultuser0' (below mentioned image illustrates this). But there is no password set for that user account and you're stuck. From this point, you've only option left is to make a clean install by wiping your data and wasting your time.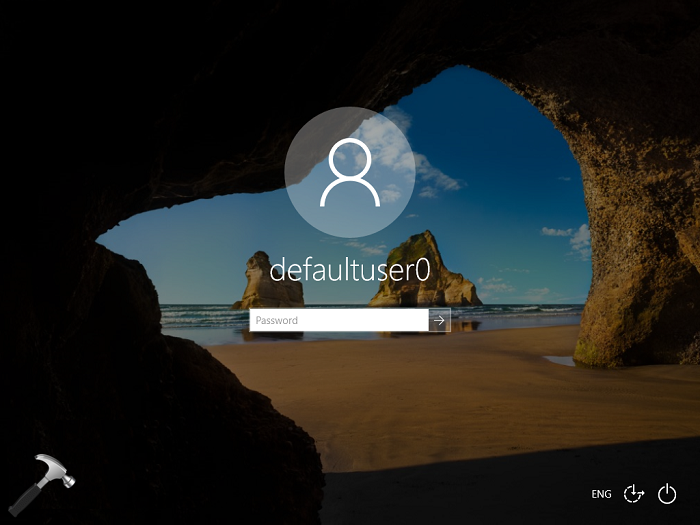 2. In some cases, defaultuser0 again appears on clean install and there might be repetition of what I said in point 1.
How To Remove Or Fix 'defaultuser0' Account In Windows 10?
Since the 'defaultuser0' can be safely removed, the best bet is to remove it as soon as you realize that it is present. However, if you feel that you want to keep that account, it is necessary that you set a know password for it. Both ways are mentioned here.
Option 1 – Remove 'defaultuser0' Completely
1. Boot Windows 10 into Safe Mode.
2. Open lusrmgr snap-in by running lusrmgr.msc command. Click here if you can't open the snap-in.
3. Click on Users folder and right click on defaultuser0 entry. Select Delete. Close lusrmgr snap-in.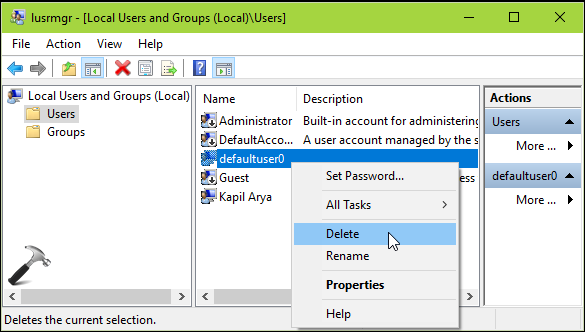 4. Also delete the defaultuser0 folder from C:\Users (replace C: with your system root drive).
Registry Disclaimer: The further steps will involve registry manipulation. Making mistakes while manipulating registry could affect your system adversely. So be careful while editing registry entries and create a System Restore point first.
5. Press

+ R and put regedit in Run dialog box to open Registry Editor (if you're not familiar with Registry Editor, then click here). Click OK.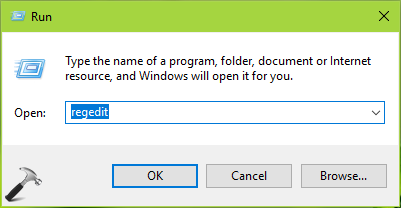 6. In left pane of Registry Editor window, navigate to following registry key:
HKEY_LOCAL_MACHINE\SOFTWARE\Microsoft\Windows NT\CurrentVersion\ProfileList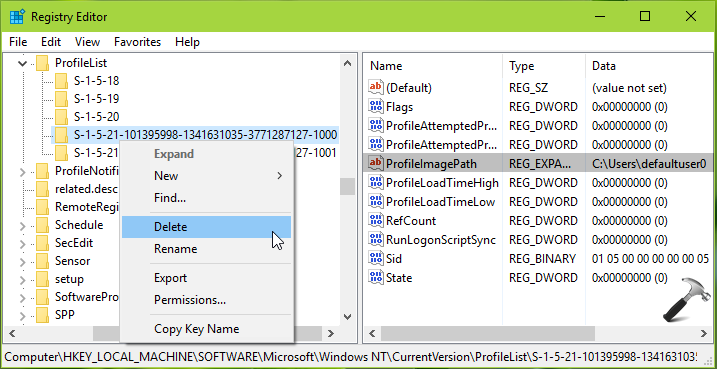 7. Expand ProfileList registry key, you'll see some sub-keys beginning with S-1-5…. Highlight each sub-keys one by one and in the right pane, look ProfileImagePath registry string (REG_EXPAND_SZ). The data corresponding to it should help you to decide which is correct registry SID sub-key for defaultuser0. When you spot the exact one, right click on it and select Delete. Close Registry Editor. Reboot to normal mode.
In this way, defaultuser0 account is removed.
Option 2 – Set A Password For defaultuser0
If you're not comfortable in deleting defauluser0, you can go with these steps to set a password for it.
1. Follow steps 1 and 2 of Option 1.
2. In lusrmgmr window, click on Users folder and right click on defaultuser0 entry, select Set Password option.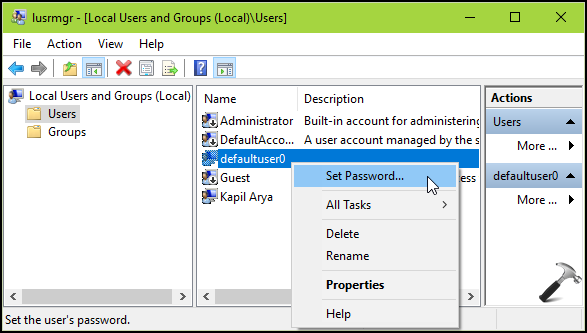 3. Then click Proceed here: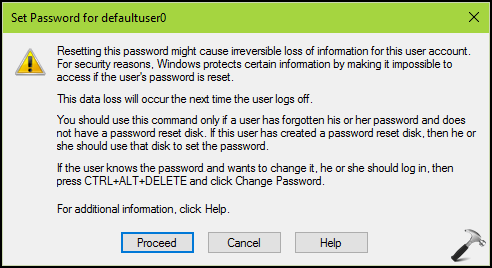 4. Then type in a new and simple+easy to remember password and confirm it. Click OK.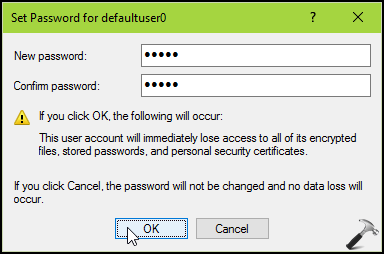 5. You'll get confirmation that password has been set for defaultuser0 and you can now relax. Reboot to normal mode.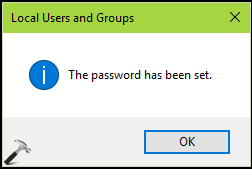 So that's all about defaultuser0!