So here it is, the 14th January 2020 date and we all know that Microsoft is ending support for Windows 7 today. Customers and IT pros are already advised by Microsoft to upgrade to Windows 10 latest version. If you're an end user, you can upgrade to Windows 10 via ISO file. While if you're a system administrator or IT pro, you can perform Windows 10 deployment to multiple machines by following this guide.
There might a situation when upgrade tool for Windows 10 show following message:
Sorry, we're having trouble determining if your PC can run Windows 10. Please close Setup and try again.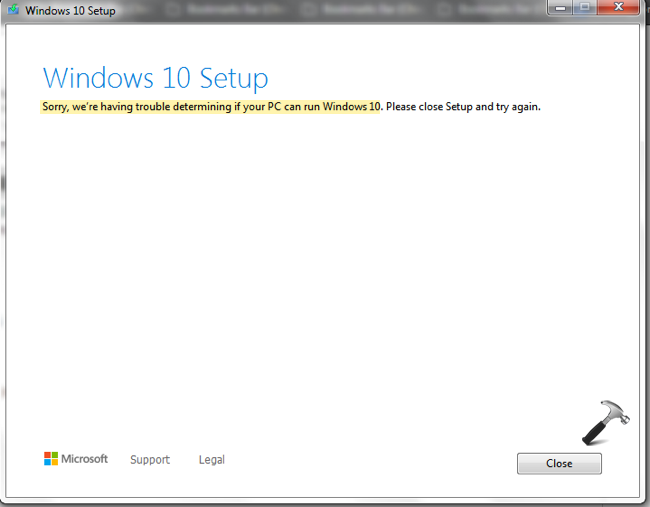 Image credits: MSA
Beyond this message, the upgrade is blocked and you need to find its root cause. In this article, we'll see how you can fix this issue and perform upgrade to Windows 10.
FIX: We're Having Trouble Determining If Your PC Can Run Windows 10
Part 1 – Manually Check If Your System Is Compatible For Windows 10
First of all, check if the error message you received is true for your case. The message mentions that system is not able to determine if Windows 10 can run on it.
Following covers the basic requirements for running Windows 10 on a system:
Processor: 1 GHz or faster with support for PAE, NX, and SSE2
RAM: 1 GB (32-bit) or 2 GB (64-bit)
Hard disk space: 16 GB (32-bit) or 20 GB (64-bit)
Graphics card: Microsoft DirectX 9 graphics device with WDDM driver
Firmware: UEFI 2.3.1, Secure boot enabled, BIOS
For detailed information on Windows 10 system requirements, check out this support article.
You additionally need to check the drivers you've installed are compatible for Windows 10. You can confirm this information from driver's or your system's manufacturer website.
Part 2 – Try Below Solution If Your System Is Compatible For Windows 10
So once you confirmed that Windows 10 can run on your machine, but you still have this issue, try this workaround. Run the setup.exe file located inside sources folder, instead of the one located in root. If that doesn't works, follow these steps:
1. Press

+ R to open Run and type diskmgmt.msc in it to open Disk Management. Click OK or press Enter.
2. In Disk Management window, right click on C: drive or the drive on which Windows is installed and select Mark Partition as Active. Please don't mind the below screenshot, as it only illustrates the situation, and it is taken on Windows 10. The reason is that we no longer use Windows 7/8.1.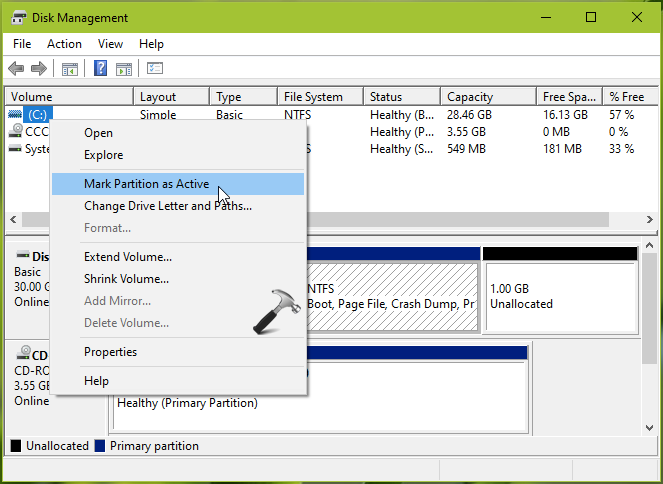 3. Close Disk Management and then run Windows 10 setup again, it should work fine this time.
Hope this helps!