Windows 10 is running on millions of devices today. But still there are considerable number of devices that are running previous OSes such as Windows 8.1/8/7/XP. Microsoft always want users to have the latest OS and they recommend Windows 8.1/8/7 users to upgrade to Windows 10. When they'll be on Windows 10, they're supposed to be more secure and safe. Users may opt any option of their choice for the upgrade.
While upgrading to Windows 10, if you couldn't launch the setup wizard, this post is for you. Here is the message that you can see if setup fails to initiate:
There was a problem starting Setup. Close the tool, restart your PC, and then try running the tool again.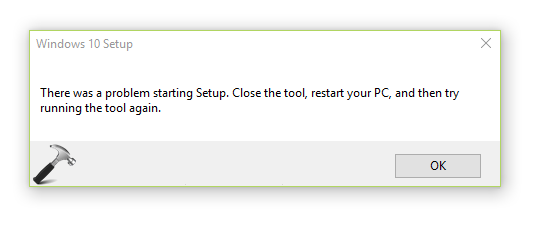 Or you may spot this another message as well:
Setup couldn't start properly. Please reboot your PC and try and running Windows 10 setup again.
Rebooting – as mentioned with the message may not help some users. No matter what technique you're using to upgrade, the bottom-line is that you can't install Windows 10 due to above mentioned messages. And if you can't upgrade to Windows 10, you'll be close to the situation of using outdated OS.
So here are the few things you can try to get rid of the setup failing scenario. These suggestions are derived from past experiences.
FIX: There Was A Problem Starting Windows 10 Setup
1. Install latest updates available to you and retry to launch the setup wizard.
2. Run the Windows Update troubleshooter.
3. Try starting the Windows 10 setup under clean boot.
4. Make sure you're running the setup.exe file or Media Creation Tool as administrator.
5. Run the setup.exe file or Media Creation Tool in compatibility mode.
6. If you're upgrading the machine, go to C:\$Windows.~WS\Sources\Windows\sources folder and try launching the setup via setupprep.exe file.
7. If point 6 doesn't helps, simply rename $Windows.~WS and $WINDOWS.~BT folders under system root drive and see if you can launch the Windows 10 setup then.
8. Sometimes this issue might occur due to corrupted installation media. You should try downloading the latest Windows ISO files from Microsoft. This will remove the possibility of corrupt/invalid media and you can launch the setup then.
We hope after following above advice, you would be able to make clean install or upgrade to Windows 10.
Let us know via comments, if you still have the issue!