I always recommend users to make a clean install of their operating system, rather than upgrading. Because, when you upgrade, some of the registry configuration may got messed up and you started facing new issues after the upgrade is done. I have seen many users reporting issues with this common line – "I don't have this problem with my previous Windows edition but after I upgrade to new edition, I started facing this hitch".
One such issue which we find after release of Windows 10 is that some users reported that their screen is constantly flashing, after upgrade. Other symptoms that we see regarding this issue are:
Screen went completely black
Screen is flickering and went black in every few minutes
Screen is flashing constantly
Screen toggles between Blue Screen of Death (BSOD) and black screen
Recommended: Windows showing weird black colors in Settings app.
Generally, there will be no error message, when either of an above mentioned symptoms you may face. Hence there is no hint about what is causing this problem. Microsoft is still working on this issue, and we can expect a fix releasing very soon for it. At the moment, if you're victim of this issue, you can try these ways to fix it:
FIX : Windows 10 Flashing Screen Problem
METHOD 1 : Boot into Safe Mode and try reinstalling display driver
First approach that is suggested for these kind of issue is to boot into Safe Mode. Here is how to boot into Safe Mode on Windows 10:
How to boot Windows 10 into Safe Mode
If the problem can't be reproduced in Safe Mode, that means any program/system driver installed on your system is causing this. Generally, your display driver can be culprit here. Follow these steps:
1. Press  

 + R and type devmgmt.msc in the Run dialog box, hit Enter key to open Device Manager snap-in.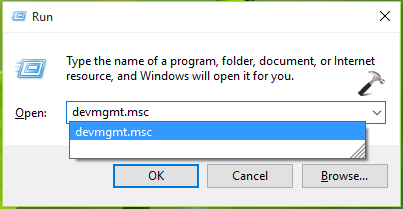 2. In the Device Manager window, expand Display adapters. Click/tap on the display device adapter installed for your system and select Uninstall.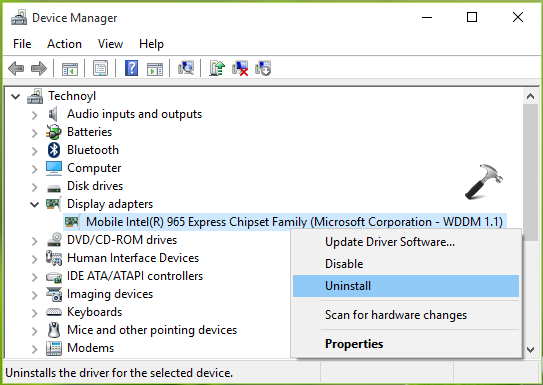 3. Now confirm the uninstall by clicking/tapping OK here: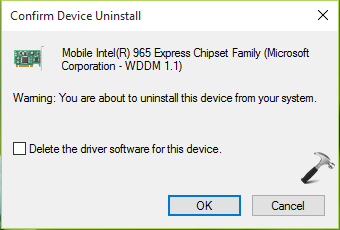 NOTE: Make sure you've not checked Delete this driver software for this device option in above shown window, otherwise you'll have to manually download and install the driver for later use.

4. Lastly, in the same Device Manager window, click/tap Action -> Scan for hardware changes.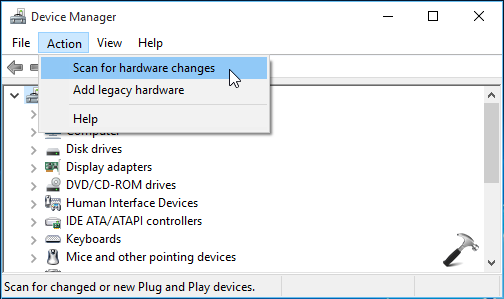 Close the Device Manager and reboot to verify the status of issue. After restarting machine, the problem should be solved. If not, try Method 2.
METHOD 2 : Reinstall Windows 10 without affecting personal files and apps
If more than one drivers or programs is contributing to this problem, its better to make a re-installation of Windows 10 without affecting your data. Windows 10 comes with this facility and this is the correct scenario to take advantage of this feature. Here is how-to part:
How to reinstall Windows 10 without affecting personal files
Although I strongly recommended to take a backup of your files, if you can.
How do I take backup since screen is flashing?
If your data is of paramount importance, try my exclusive way of backing it up:
1. Create a bootable Windows installation disk using ISO image of any Windows edition released after Windows 7.
2. Plug it and using it install the Windows edition on any other partition, parallel to primary drive. In others words, create a dual boot environment.
3. Once you've installed a new Windows edition in parallel to original Windows, extract all the data to new OS from original one using File Explorer.
METHOD 3 : Install Windows 10 From Scratch
If method 1 and 2 didn't solved your problem, consider making a clean install of Windows 10. Here is the step-by-step guide for that:
[GUIDE] How to make clean install of Windows 10
I'm quite sure that making clean install will resolve this issue for you.
Hope something helps, Good luck!