Some users have reported that after installing Creators Update (V1703 and/or V1709), they can't shut down their Windows 10 system. One of the users says on Microsoft Community, "After upgrading my computer to Windows 10 V1703, I can't shut down. It takes a while before the monitor and all lights go off…but after a few seconds it boots up itself. It looks like it's doing a restart rather than shut down." If you're also facing such kind of issue after installing the feature updates or some Cumulative Updates, this article is for you.
The users facing this issue may see only Shutting down screen when they opt for Shut down option from WinX/Start Menu. This creates an indefinite waiting time situation and then OS returns back to Desktop again. As a last option, user need to cut the power to the machine and have to turn it off this way. Turning off the system by cutting power supply is never good for the OS as well as for machine hardware. Thus to save your system from further damages, you need to fix this shut down issue asap.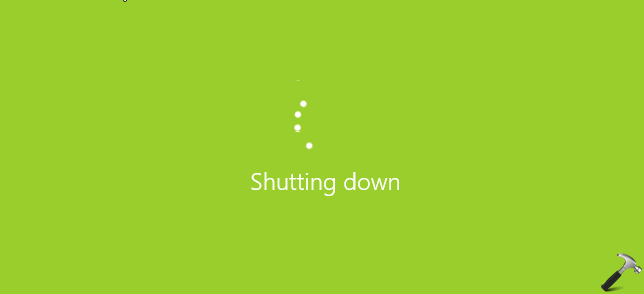 We've got few suggestions that you can try to fix this problem.
FIX: Windows 10 Won't Shut Down
FIX 1 – Disable Fast Startup
The most common solution that is recommended to resolve this issue is disable fast startup. In Windows 10 fast startup is enabled by default, and disabling it has solve this problem for many users. Follow our guide for this:
How to enable/disable fast startup in Windows 10
See if you can shut down the machine now. If problem still persists, try FIX 2.
FIX 2 – Shut Down Using Alt+F4
If disabling fast startup has no effect on the situation, you need to change the shut down pattern. You have to press Alt+F4 keys to get below shown Shut Down Windows dialog and where Shut down is already selected and you need to click OK only. This has helped many users to get rid of this shut down problem, so you can just give it a try.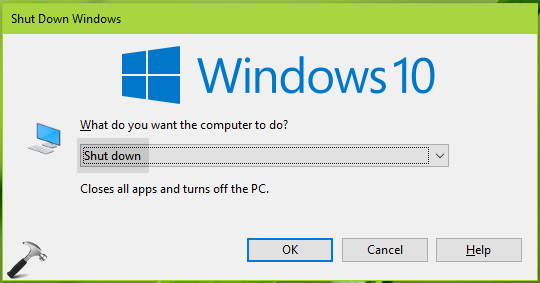 Hope something helps you!
Related: How to fix This app is preventing shutdown message in Windows 10.