Windows Hello is the advanced security feature that Microsoft implemented on Windows 10 OS. It allows you to log in to your Windows 10 by facial recognition. However, Windows Hello experiences compatibility issues as it require special hardware installed on the devices, to work. Most of older machines do not support Windows Hello feature. But in case if you've got a Windows Hello compatible device from your seller and still you can't use the feature, this post is for you.
Following is the message you've when Windows Hello not working:
Windows Hello isn't available on this device.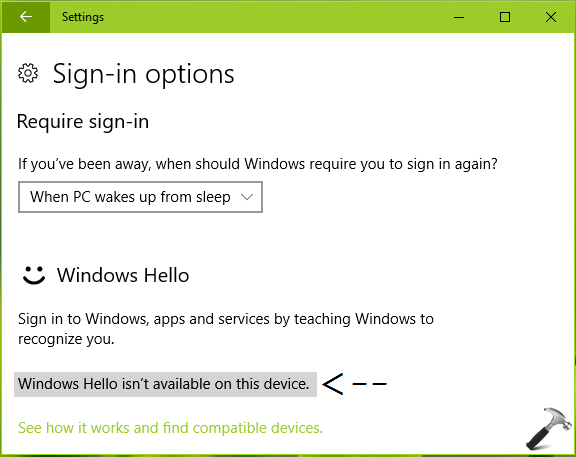 Here are the suggestions to make Windows Hello working on your system:
FIX: Windows Hello Isn't Available On This Device In Windows 10
FIX 1 – Make Sure You Fulfill The Windows Hello Requirements
First of all you need to make sure that your device supports Windows Hello hardware requirements. At the moment following devices fully supports Windows Hello:
#
Manufacturer
Windows Hello Supported Model
1
Dell

Dell Inspiron 13 5000 2-in-1
Dell Inspiron 13 7000 2-in-1
Dell Inspiron 15 5000
Dell Inspiron 15 5000 2-in-1
Dell Inspiron 15 7000
Dell Inspiron 15 7000 2-in-1
Dell Inspiron 17 7000 2-in-1
Dell Latitude 12 5000
Dell Latitude 12 5285 2-in-1
Dell Latitude 12 5289 2-in-1
Dell Latitude 12 7000
Dell Latitude 12 7000 2-in-1
Dell Latitude 13 3000 2-in-1
Dell Latitude 14 3000
Dell Latitude 14 5000
Dell Latitude 14 7000
Dell Latitude 15 3000
Dell Latitude 15 5000

2
HP

HP EliteBook Folio G1
HP EliteBook x360
HP ENVY 15
HP ENVY 17
HP ENVY x360 15
HP OMEN 17t
HP Spectre x360 13
HP Spectre x360 15

3
Lenovo

Lenovo Ideapad Y700 17
Lenovo Miix 720
Lenovo ThinkPad P51s
Lenovo ThinkPad T570
Lenovo ThinkPad X1 Tablet
Lenovo ThinkPad X1 Yoga

4
Microsoft


Microsoft Surface Book
Microsoft Surface Book with Performance Base
Microsoft Surface Laptop
Microsoft Surface Pro
Microsoft Surface Pro 4

5
MSI

MSI GT72 Dominator Pro
MSI GT72VR Tobii
MSI GT72S G Tobii
MSI GT72S Dominator G
MSI GT72S Dominator Pro G
MSI GT72VR Dominator
MSI GT72VR Dominator Pro

6
Toshiba
Toshiba Satellite Radius 2-in-1
7
Asus
ASUS Transformer 3 Pro
8
Alienware

Alienware 13
Alienware 15
Alienware 17
Above is the list of Windows Hello dedicated devices. However, if your device has old fingerprint reader, by installing compatible drivers, you can make Windows Hello to work on your device. Readers are requested to confirm with their device manufacturer about this.
Apart from having Windows Hello compatible device, you must have all the latest Windows Updates installed. Also make sure you've up-to-date drivers on your machine.
FIX 2 – Allow Use Of Biometrics
If you confirm everything in FIX 1 and still you can't use Windows Hello, try Group Policy manipulation mentioned below.
FYI:
GPO snap-in
is not available in
Windows 10 Home
editions. If you're on
Windows 10 Home
and want to use
Group Policy
, go
here
and upgrade to
Pro
edition.
1. Press 

 + R and put gpedit.msc in Run dialog box to open Local Group Policy Editor. Click OK.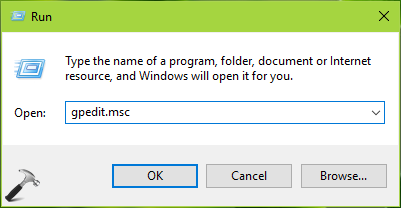 2. Next, in the GPO snap-in window, navigate here:
Computer Configuration > Administrative Templates > Windows Components > Biometrics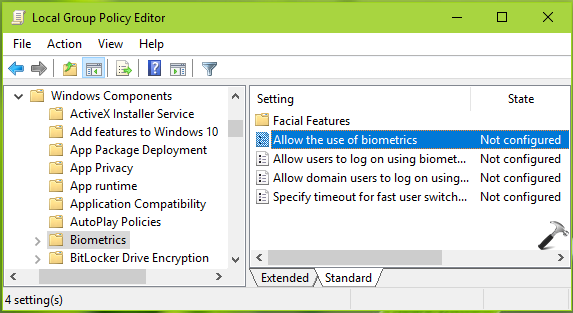 3. In the right pane of Biometrics folder, look for Allow the use of biometrics policy setting. Double click on this policy to modify its status.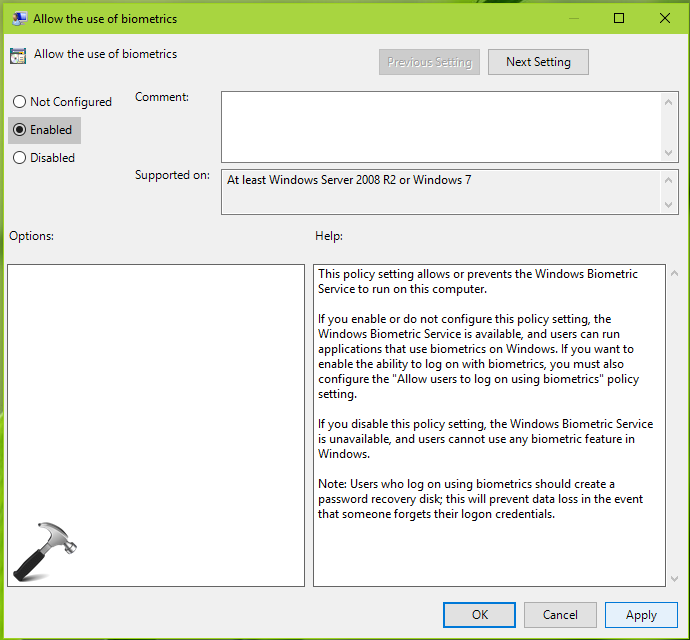 4. Finally, select policy status as Enabled. Click Apply followed OK and close Group Policy Editor. Reboot the machine and Windows Hello will be able to work on your device.
Hope this helps!