In Windows 10, it is quite easy to install latest apps and games of your choice. However, different apps may have different system requirements. If your system meets the selective app requirements, then only you'll be able to install it. Recently, while installing an app, we came around following message:
It looks like you don't have any applicable device(s) linked to your Microsoft account. To install, sign in on a device with your Microsoft account.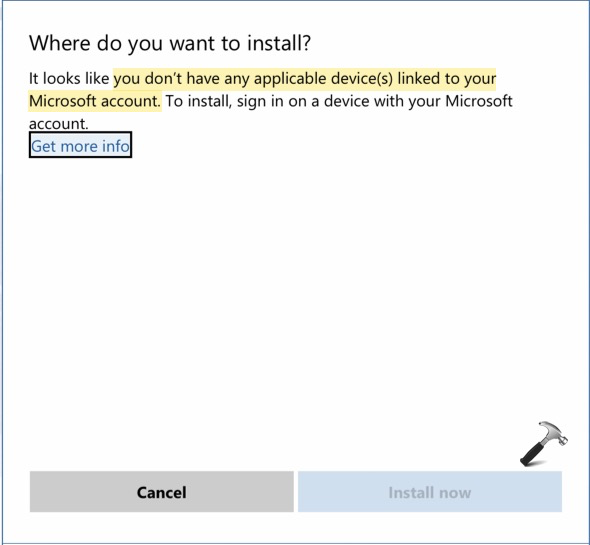 However, the Store app on the device was signed in with Microsoft account. Additionally, the user account was already switched to same Microsoft account. Then getting this error looks confusing. We tried to restart the system to see if it makes any differences but nothing changed. Then how to fix this issue? Well, you can try below mentioned suggestions to see if they helps you in this case.
FIX: You Don't Have Any Applicable Device(s) Linked To Your Microsoft Account
FIX 1 – General Suggestions
1. Try signing out from Microsoft Store app and then sign-in back.
2. You can also try resetting Microsoft Store app. If that doesn't helps, try re-registering the Store app.
3. Check the regional settings including date and time settings on your system and ensure they're correct.
4. Switch to local account from Microsoft account and then revert back.
5. Make sure the Microsoft account you've switched to is verified.
FIX 2 – Update Your Device To Latest Version
From past experiences, we came to conclusion that this issue usually occurs on outdated system. You need to go to https://account.microsoft.com/devices and then sign-in with your Microsoft account. You'll be then able to see devices linked to your Microsoft account. Spot the device which is having this issue and it may be shown as 'outdated' which is the actual root cause here (as shown in below screenshot).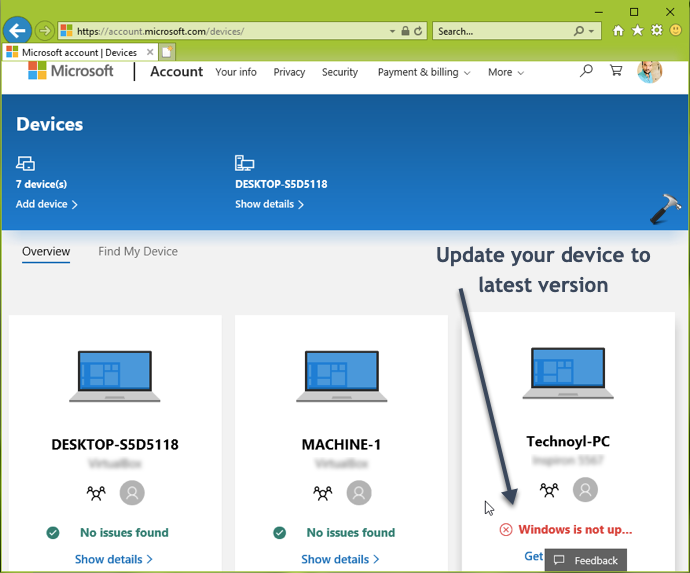 Once you update your system to latest version and have latest Windows Updates installed, the issue will be no longer present.
Hope this helps!