A microphone is audio input device which would be require by applications such as Cortana on your Windows 10. In the absence of microphone, Cortana won't be able to take your inputs and hence will not be working as expected. So you must setup your microphone in order to avail benefits of Cortana.
However, while adding microphone, we came around following error:
Your current default speech engine does not support this action at this time.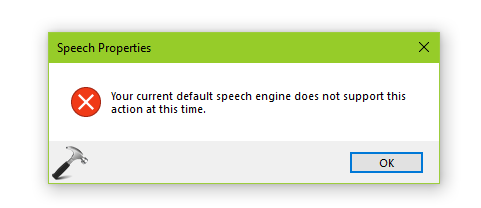 If you're also facing this issue on your Windows 10 or earlier running machine, see if below mentioned suggestions helps you.
FIX: Your Current Default Speech Engine Does Not Support This Action At This Time
FIX 1 – General Suggestions
1. Reboot the machine and see if issue gets resolved by itself.
2. Run Playing Audio troubleshooter. It will help you to find issues with audio device and fix them automatically.
3. Open Device Manager and right click on your sound device and select Uninstall. Then click Action > Scan for hardware changes.
4. If point 3 doesn't helps, completely uninstall your sound device and then go to your device manufacturer's website and download latest audio driver for your system model. After installing this latest audio driver, the issue may resolved.
If above points didn't helped, refer FIX 2 below.
FIX 2 – Set Sound Defaults
1. Right click on the volume icon present on the taskbar, see this fix if you've volume icon missing. Select Open Sound settings option on the fly-out context menu.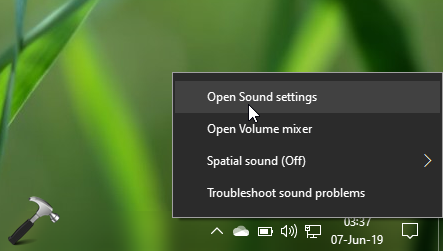 2. Next, in the Sound settings, under Advanced sound options, click on App volume and device preferences option.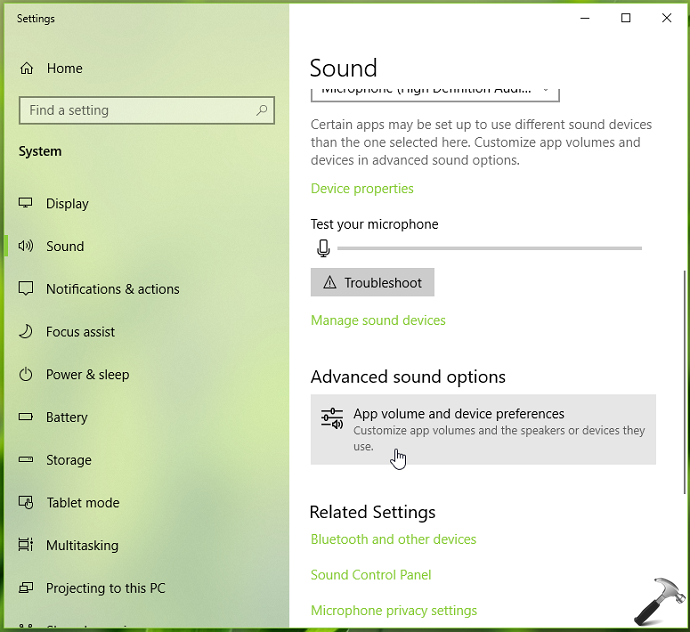 3. Moving on, in next screen, select your microphone device under Input devices. Also set Default under Input settings. Check if these settings resolves the issue.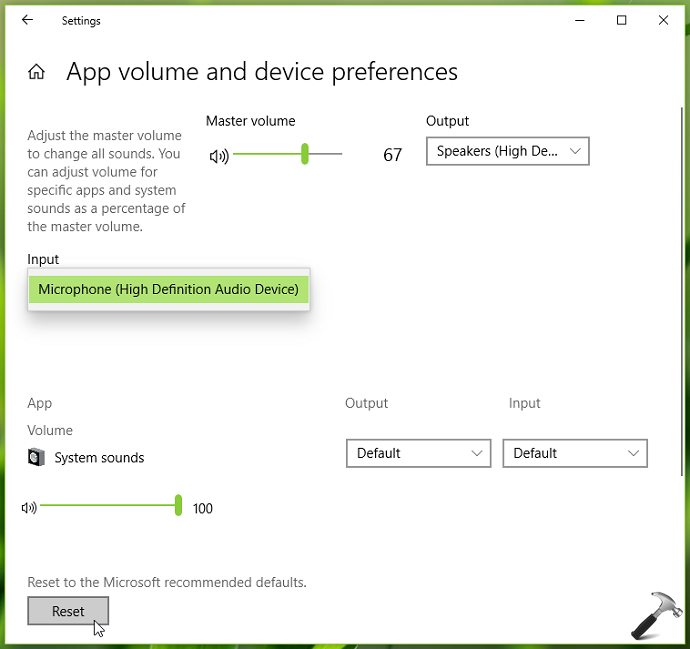 4. In case if issue still persists, click on Reset button to set Microsoft recommend defaults. We hope after resetting sound settings the issue will no longer present.
Hope this helps!