If you're facing trouble in connecting systems via Remote Desktop, you're not alone. When systems are not aligned as per the required settings, this kind of troubles are common.
Recently one of my reader contacted me regarding a common Remote Desktop issue. In this case, when he tried to connect the systems via Remote Desktop feature, following error occurred:
Your password may have expired or the remote PC might not accept blank passwords. Try connecting again. If this keeps happening, ask your admin or tech support for help.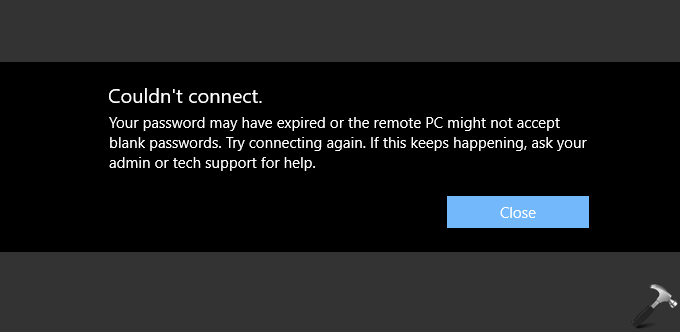 If you're also facing this issue, try below mentioned suggestions to fix.
FIX: Your Password May Have Expired Or The Remote PC Might Not Accept Blank Passwords
FIX 1 – General Suggestions
1. Run Network Adapter troubleshooter to check if there are any network related issue and resolve them.
2. If possible, check the Remote Desktop connection with different machine and see if issue still persists.
3. As suggested by the error message, the password may expire. So try updating it to new one.
4. Make sure you're network drivers up-to-date.
5. Temporarily disable Network Level Authentication for Remote Desktop and check if this resolves the issue.
FIX 2 – Via Services Snap-in
If FIX 1 doesn't helped you, try this workaround to fix this issue. You can restart Remote Desktop Services on the client system when the problem occurs or system is started. Follow these steps:
1. Press

 + R and type services.msc in the Run dialog box, hit Enter key to open Services snap-in.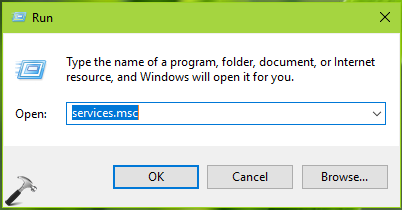 2. In Services snap-in window, right click on the Remote Desktop Services and select Restart.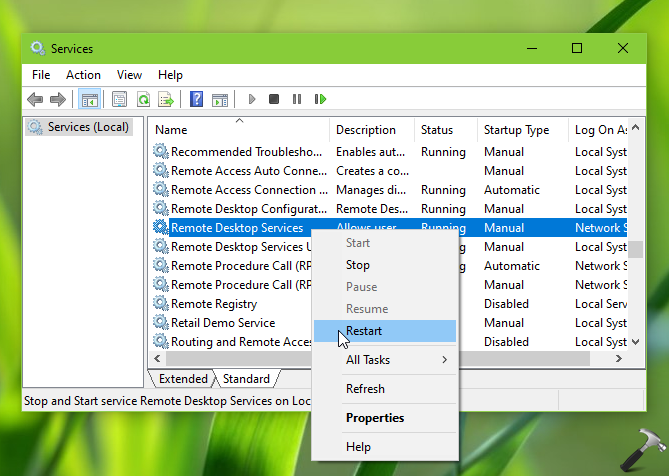 3. Close Services snap-in. Retry to connect to Remote Desktop and this issue should be resolved now.
If the issue occurs frequently, you can create a basic task under Task Scheduler with a script (batch file) to restart Remote Desktop Services when the client machine is started.
Hope this helps!